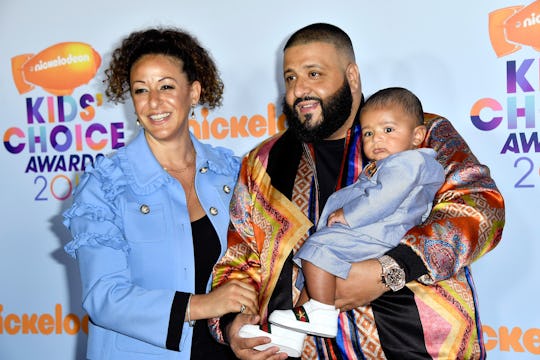 Frazer Harrison/Getty Images Entertainment/Getty Images
DJ Khaled's Quotes On Fatherhood Are Overwhelming
There's basically only one thing in this world cuter than an adorable baby: a dad who is over the moon in love with said adorable baby (also puppies come in a close second, sorry). There's something so endearing about a man who wants the whole world to know how much he loves his little one, which is one of the reasons the internet is gushing over DJ Khaled these days. Sure, the man knows how to put together some amazing music. But what really has the internet swooning are quotes from DJ Khaled about being a father. Just in case you haven't heard any, let me offer you a brief summation; he's a fan. He's a really enthusiastic fan of being a dad.
DJ Khaled has made a name for himself as something of a self-help guru for the modern age, always coming up with little pearls of brilliance and positivity to encourage fans to better themselves, to strive for more, to believe in themselves. And ever since Khaled's longtime fiancée Nicole Tuck gave birth to the couple's first child, son Asahd Tuck Khaled, four months ago, Khaled has had even more reason to spread all of that goodness and light.
Khaled Says His Son Can "Do Anything"
According to a video Khaled posted to his Snapchat account, where he was seen greeting his little boy, he is all about positive reinforcement, according to BuzzFeed:
You're a legend, you're an icon, you're a dawg, you're a boss, you're my best friend, you're my son. I love you so much.
Any time you want to feel better about the world, watch this video of Khaled greeting his son after being away. Already at 5 months old, Asahd lights up with a grin for all of the beautiful words his father says to him.
Khaled Believed His Son Was Blessed From Day One
When Tuck gave birth to Asahd in October 2016, Khaled documented (nearly) the entire event on Snapchat. All the nerves, the excitement, the fear, and the love. He told People after the big event:
My son is so much joy. He brings me so much joy, and it's a feeling that I can't explain.
Little Asahd Is Already Working As An Executive Producer
Asahd Tuck Khaled is listed on his father's 10th album, Grateful, as an executive producer. Some critics might call nepotism and wonder how a baby could possibly fill such important shoes. Khaled spoke to Jimmy Kimmel on Jimmy Kimmel Live about what his son brings to the table:
He's in the studio listening to songs with me, going over the business part of it, if the vocals are right, if the beats are right, if the energy's right, everything -- he's a part of.
Even Before His Son Was Born, Khaled Was Already In Love
Before Asahd was born, Khaled was already super excited to be a dad. At the 2016 MTV Video Music Awards he told People he had already been sneaker shopping for his incoming best bud.
I'm really excited about having a child and having a family — and somebody who I can come home to and give them joy … that's my son.
Khaled Says He And His Son Are BFFs For Real, And It's Amazing
Khaled has called his son a blessing, a joy, a future icon, but one thing remains constant — Asahd is simply his best friend. According to Salon, at a Super Bowl party in Houston when Asahd was 3 months old, Khaled said:
That's my best friend, and I'm his dad. So my son, he's the CEO of my company. He's the boss of everything now. He's just learning early, you know what I mean?
And honestly, who can say any better than that?