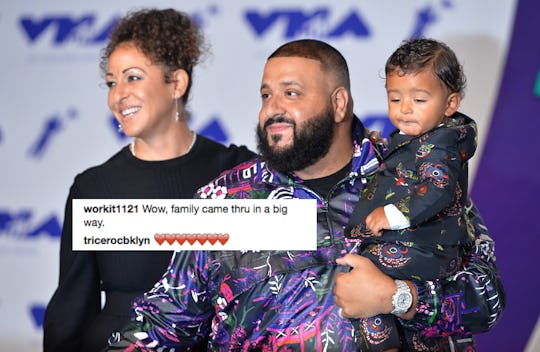 Alberto E. Rodriguez/Getty Images Entertainment/Getty Images
DJ Khaled's Valentine's Gift From Asahd Is So Extra In The Best Way
There seems to be a little game of one-upmanship going on in the Tuck-Khaled household, but it's basically the sweetest thing ever. Apparently the little family of three is giving each other amazing presents, and DJ Khaled's Valentine's Day gift from Asahad is probably better than any gift that's ever been given. But don't worry, the music mogul is managing to keep up with the competition himself.
The Grateful producer and his 1-year-old son, who also has a producing credit on the album, took to Instagram to share their Valentine's Day presents with Asahd's mom, Nicole Tuck. It's no secret that Khaled utterly adores his little boy; Asahd's birth was famously documented on Snapchat, and Asahd's face was emblazoned on the cover of Khaled's Grateful album last year. The smallest executive producer has since become his father's favorite topic of conversation and a frequent feature on Khaled's Instagram page. Not that he really needs the exposure — Asahd Tuck Khaled's Instagram page has 1.8 million followers already. There are some toddlers out there who might let that level of fame go to their heads, but not Asahd... he and his mother took to Instagram on Valentine's Day to share a snap of their gift to DJ Khaled for Valentine's Day. And good luck topping this one, folks.
Nicole Tuck, Khaled's long-term partner, captioned the photo on Asahd's Instagram feed:
Happy Valentine's Day daddy @djkhaled me and mommy had to write it in the sky for u! 🙏🏽❤️😍
So how exactly does one top a message written in the sky that says "Happy Valentine's Day! We love you, Nicole & Asahd"? Because that's a pretty perfect present, and Asahd's many Instagram followers seemed to agree:
This is a whole new level
THIS IS SO EXTRA
Omg!! That's the sweetest thing ever❤️❤️❤️❤️❤️ Happy Valentines Day Asahd, love u so much. May god bless u and ur parents.🙏🏼🙏🏼🙏🏼❤️❤️❤️❤️❤️
Khaled himself seemed to be pretty overcome with emotion at the gesture; he shared the photo on his own Instagram feed with the caption:
Tears of joy thank you ! Thank u @asahdkhaled !!zayzee !! Nicole ! 🙏🏽❤🙏🏽
As for Khaled's present to Tuck and Asahd for Valentine's Day? No big deal, he just filled their home with flowers and candles. Oh yes, and he also had her serenaded with a beautiful version of Leonard Cohen's "Hallelujah." It's also important to note that Asahd appeared to have a nice, heart-shaped balloon for his mom for Valentine's Day. Not to mention his sweet little smile.
So to everyone out there who was really hoping to just chill and watch Netflix... you have DJ Khaled and his family to thank for the inflated expectations of Valentine's Day this year.
Setting the barre high for holiday gift-giving appears to be something of a trend for the Tuck-Khaled family. When Asahd turned one in October, his parents threw him a lavish jungle-themed party to celebrate. His parents bought out the Liv at Fountainbleu nightclub in Miami, where Diddy sang him "Happy Birthday" and luxury mini cars were provided for the children invited.
There were dancers dressed like animals, and a few real-life tiger cubs provided, as well as small spider monkeys to keep the party goers entertained. As for seating arrangements? Asahd had a small throne fashioned just for him.
Not everyone can afford to go big for the holidays like the Tuck-Khaled family, but at least there's social media for the rest of us to live vicariously through them. Sure, they might be able to give each other presents the rest of us couldn't possibly compete with, but life's not a competition, is it?
I hope not. Because if it is, this family might be winning.