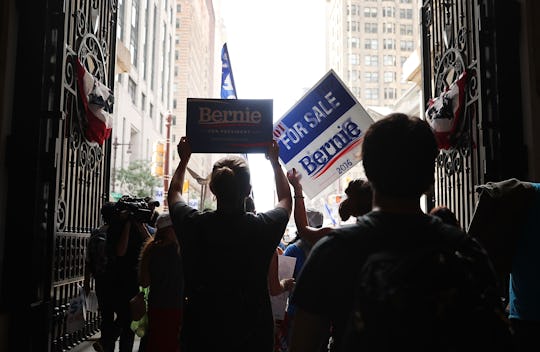 Spencer Platt/Getty Images News/Getty Images
DNC Storm Tweets That Show Just How Distracted Everyone Is
Some might think that all eyes would be centered on what's happening inside the Philadelphia arena on the first day of the Democratic National Convention. Instead, what seems to be grabbing the crowd's focus is happening outside the convention center, and the many DNC storm tweets show just how distracted everyone actually is. Even though Hillary Clinton will formally accept the Democratic presidential nominee this week and her former rival, Bernie Sanders, is expected to take the stage on Monday evening, the thunderstorm taking over the East Coast is hilariously the center of attention.
Reporters were already upset with the of the convention center, calling it a "hot, logistical nightmare for the media." Some reporters complained about the long walk between the AT&T Center, where protesters have been gathering, and the Wells Fargo Center, where the Democratic convention is being held. Others complained about lagging WiFi, terrible air conditioning in the sweltering heat of the media tents, as well as bathroom facilities for the media.
Many in the media, convention attendees, and viewers at home took to social media soon after the storm struck to share how their experience has been so far. These hilariously snarky tweets show that everyone may be a bit irritated and distracted from the main events at the moment, but still poke fun at this moment.
Monday's theme — "United Together" — will bring a few notable names to the stage for both speeches and performances. Some celebrity faces include Eva Longoria, Sarah Silverman, and Demi Lovato. Some prominent political figures include First Lady Michelle Obama, former Democratic presidential hopeful Bernie Sanders, and Sen. Elizabeth Warren.
The epic storm is likely to pass before these headliners make their debut. Hundreds of journalists were forced to evacuate the media tent shortly after 7 p.m. EST area after strong winds ripped holes through tents and heavy rains flooded electrical equipment.
The media was sent the following email on Monday evening:
The DNCC's weather monitoring service has observed lightning within a six mile radius of the Wells Fargo Center. Tents in the vicinity of the area are not designed to fully protect inhabitants in the event of a direct lightning strike. Accordingly, we strongly recommend that you and your colleagues evacuate your tent immediately and proceed to Lincoln Financial Field using the directions below. We will notify you by email when dangerous conditions have subsided.
The massive thunderstorm effectively shut down protests that were happening near the convention center and ultimately forced the media to halt the coverage momentarily. The rough weather might have been the cherry on top of a rough start to the first day of the convention. But, maybe as the storm calms outside, perhaps things will heat up a bit on stage.