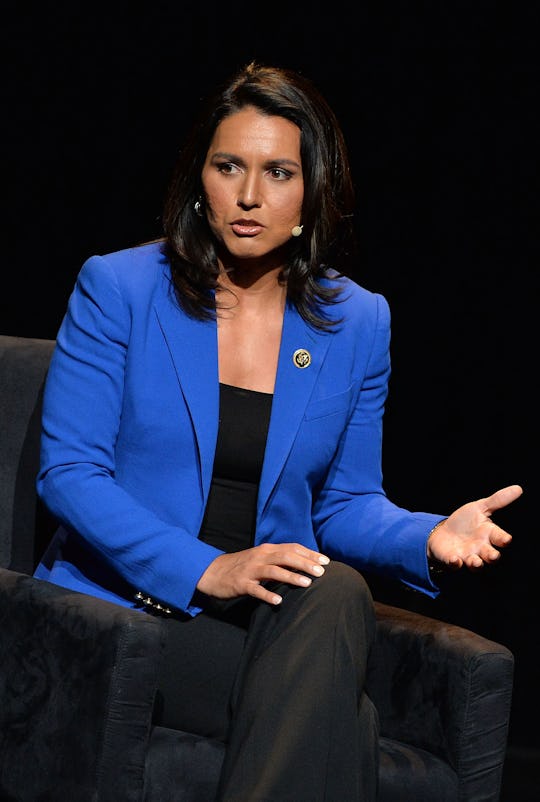 Slaven Vlasic/Getty Images Entertainment/Getty Images
DNC Vice Chair Resigns To Support Bernie Sanders — Here's Why That's So Huge
It has been a back and forth battle for Democratic primary election hopefuls, both of them wanting to secure the vote and the amount of delegates necessary to win the eventual nomination in the upcoming 2016 presidential election. Former Secretary of State Hillary Clinton and Vermont Sen. Bernie Sanders seem to have the party split between their two platforms, leading many to wonder how the rest of the course of the election might proceed. In a historic move on Sunday, Rep. Tulsi Gabbard (D-Hawaii), DNC Vice Chair, resigned to support Bernie Sanders — which is pretty huge for both Sanders and the Democratic party itself.
As Vice Chair, Gabbard, a military veteran, could not take sides with either candidate due to her position with the DNC. However, that changed with her resignation. The former vice chair went on NBC's Meet The Press this week to announce the decision and to endorse Sanders.
"As we look at our choices to who our next Commander-in-chief will be is to recognize the necessity to have a Commander-in-chief that has foresight," Gabbard said. "Who exercises good judgement. Who looks beyond the consequences — who looks at the consequences of the actions they are willing to take before they take those actions. So that we don't continue to find ourselves in these failures that have resulted in chaos in the Middle East and so much loss of life."
Tulsi's resignation and endorsement is huge for the Democratic party. The representative's support of Sanders could mean there is some unrest in the DNC, especially feasible, given Chairwoman Debbie Wasserman Schultz's history as co-chair of Clinton's 2008 campaign. If Tulsi was willing to step down just so she could express her thoughts on Sanders as a candidate, it means that either Sanders is gaining momentum behind the scenes, or that the Democratic Party is slowly meeting with chaos.
With Clinton in the lead with Superdelegate and delegate votes and Super Tuesday looming ahead, it is crucial for Sanders supporters in general to speak up and start getting the word out to vote for the candidate before it is too late. Tulsi's resignation gives hope to supporters of Sanders as to not be discouraged about the results of South Carolina and there are politicians out there who believe that Sanders is the right candidate for the job.
Now, it's up to Democratic voters to make what they believe is the right decision for their party and vote for who they think will be the best candidate. Tulsi's resignation proves that they're willing to go to great lengths to do so.