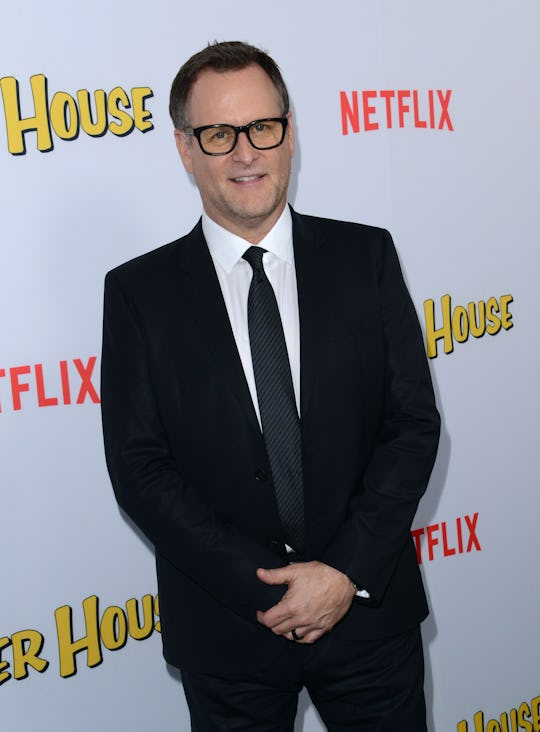 CHRIS DELMAS/AFP/Getty Images
Do Alanis Morissette and David Coulier Still Talk? They Likely Haven't Spoken in Years
Actor David Coulier is mainly known for two things: for starring in Full House as beloved Uncle Joey, and for being the rumored inspiration behind Alanis Morissette's song, "You Oughta Know." (Spoiler alert: it is not a happy song.) Now that Coulier is making the rounds on talk shows and premieres for Fuller House, it seems like the public still hasn't forgotten about Morissette's spurned-lover song, since Coulier is still frequently asked on-air about the 1995 song. Since people are still bringing up their 1992 relationship, you have to wonder: do Alanis Morissette and David Coulier still talk?
There's no real proof that the two are friends today, but let's be honest here. They both lead fairly busy lives — Morissette announced her second pregnancy with husband Mario "Souleye" Treadway recently, and Coulier has been busy with Fuller House, the follow-up to the 90s sitcom Full House. They seem like they lead fairly full lives, and... well, do you stay in touch with your exes from 20 years ago?
By that same token, though, it's been 20 years, so I doubt there's any bad blood left between them, even if Coulier was really the ex-boyfriend to inspire the cold lyrics in "You Oughta Know." I'm sure if the two ran into one another at a party, they'd kindly say hi, then go their separate ways.
And who knows if there ever was bad blood between the two of them to start with? Morissette has never actually confirmed whether or not the song was about Coulier in the first place. "There's probably 12 other people who have told the whole world it's about them, God bless them," she said, according to The Toronto Sun. "I'm not even going to corroborate any of it because they'll never know and I'll never say."
Does Coulier think the song is about him? He's not sure, but has said in the past he hopes it's not. He told BuzzFeed in 2014:
"You know, it's just funny to be the supposed subject of that song. I asked Alanis, 'I'm getting calls by the media and they want to know who this guy is.' And she said, 'Well, you know it could be a bunch of people. But you can say whatever you want.' So one time, I was doing a red carpet somewhere and [the press] just wore me down and everybody wanted to know so I said, 'Yeah, all right, I'm the guy. There I said it.' So then it became a snowball effect of, 'OH! So you are the guy!' It's just become this silly urban legend that I just have to laugh at."
He has also been quoted as saying Morissette was "really fun to be around and really thoughtful and sweet," according to the Frisky. I have a feeling they're probably cool exes who would be fine with running into one another — but Morissette and Coulier likely aren't the closest of friends.