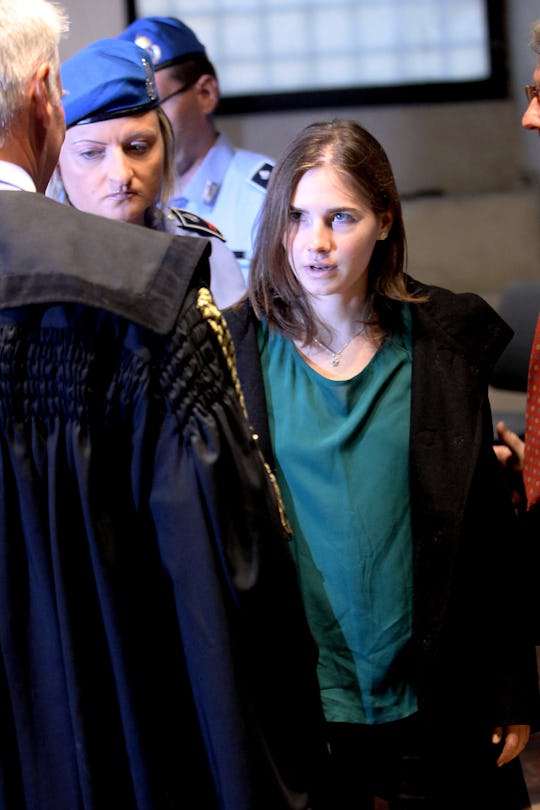 Franco Origlia/Getty Images News/Getty Images
Do Amanda Knox & Raffaele Sollecito Still Talk? Their Ordeal Is Finally Over
In 2007, a British student named Meredith Karcher was murdered while studying abroad in Perugia, Italy. Her American roommate, Amanda Knox, and Knox's then-boyfriend, Raffaele Sollecito, were immediately implicated in the murder. A new Netflix documentary reexamines the case that stretched on for eight years, thanks, in part, to Italy's somewhat confusing legal system, which allows cases to be retried, even after defendants have been acquitted. Knox and Sollecito, were convicted, sentenced to 26 and 25 years in prison, respectively, had their convictions overturned, and then were retried again. But do Amanda Knox and Raffaele Sollecito still talk?
Even though they had only been dating for five days on the day of the murder, Knox and Sollecito seemed bonded by their experience. The trial moved excruciatingly slowly, and both of them were detained for the entirety of the three-year ordeal. Then, in 2013, three years after they had been acquitted, Italy's Supreme court demanded a retrial of the case for 2014, and finally, in 2015, definitively exonerated Knox and Sollecito.
Both the prosecution and the media pounced on the idea of young, sex-crazed college students, and the brutal nature of Kercher's murder, to suggest that the killing was a drug-fueled, sadomasochistic sex game that spun out of control. Kercher was found stabbed to death, with the DNA of a third suspect, Rudy Guede (the only person whose conviction would stick) inside her. Trace amounts of Sollecito's DNA were found inside the clasp of her bra, and as her roommate, Knox's DNA was understandably all over the apartment. The prosecution used this DNA evidence to tie the foursome together, though the defense would argue that it was improperly interpreted.
Knox, for her part, has always insisted that she was at Sollecito's apartment at the time of the murder, having sex, smoking pot, and watching Amelie. While the murder made international headlines for obvious reasons, paparazzi images of Knox and Sollecito kissing just hours after the body had been discovered fueled the idea of a remorseless killer couple.
Today, Amanda Knox is living with her current boyfriend in Seattle and writing a column for her local paper, while Sollecito has just begun a gig as a contributing "guest expert" on an Italian true crime show. Although they kept in touch via letter while imprisoned together, and had, according to The Daily News, warm reunions in New York City and Seattle over the years, it seems as if the two have finally severed ties. Sollecito told NBC News in an interview last year, after their names had finally been cleared:
"I'm so glad for her, but for me, psychologically having all these connections and grievances and all the people talking about my relationship with her really took me down. I want to be detached from this bond...not that I have anything against her."
He's also pointed out that they only dated for a total of nine days, and their bond was more over their shared trauma than anything else. For now, it seems as if Knox and Sollecito's relationship is uncontentious, but over.