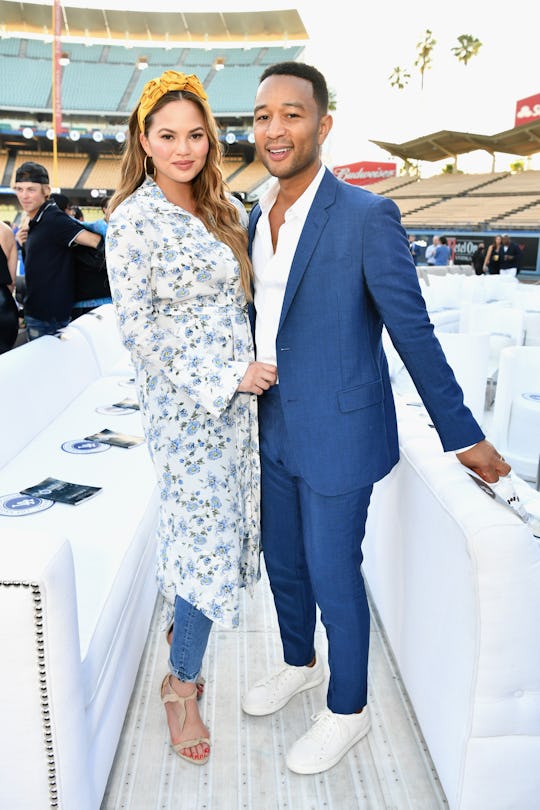 Emma McIntyre/Getty Images Entertainment/Getty Images
John Legend Opened Up About His Thoughts On Having More Kids With Chrissy Teigen
Chrissy Teigen and John Legend just seem to be glowing lately as they adjust to life with two kids following the birth of their son, Miles, last month. It's probably too soon to start asking, but do Chrissy Teigen and John Legend want more kids at some point in the future? At an event this week, Legend did open up about what he and his wife may have in mind for their family.
In a recent interview with Hollywood Life, when asked if they were finished having children, Legend told the news outlet, "I don't think so. We will probably have more! Yeah!" So it sure sounds like he's game for the moment, but that could also be the exhaustion talking, as any new parent can relate to. He also said, according to Hollywood Life, that at the moment, he and Teigen have figured out the perfect way to take care of two kids.
"When Chrissy is breastfeeding [Miles], then I will be out playing with Luna in the yard," Legend explained to the news outlet. "So the idea of splitting up is a little different than what we had before… But it is good to have two of us there to handle the two of them!"
Two kids can certainly be overwhelming, but it's also a welcome change and can be a lot of fun, too. "It's cool," Legend said in the same interview. "We are having fun! Our little brood," the singer added. Given the easy relationship he and Teigen seem to have, more kids might really be in the works for them. They're naturals.
Teigen has also expressed an interest in having more than two kids in the past. For example, she told SELF in 2016:
I think I'll probably be pregnant all through my 30s. I've always pictured everyone around the table for the holidays and together once a week. It'll be heartbreaking if it doesn't end up happening, but hopefully it will. We've got some embryos on hold.
She added that she wanted four kids, and then a dog afterwards. Teigen added in the same SELF interview, "I hope that when we do have those four kids, John and I can look at each other and know that it's us against them. We are going to love the s--- out of our kids, but we are going to team up and fight in pairs!"
If you watch her Instagram Stories, then you already know she has an adorable bulldog, who little Luna loves to take care of. And now that she has two beautiful kids to fill up her kitchen, maybe four is pushing it. She told Us Weekly this year that she's on the fence these days about more kids. "I think I do want to have another baby after this and then get hot. I just want to go babies, back to back to back, but then I think maybe I want to have my 30s, really live in my 30s and not just be pregnant throughout them," Teigen told the publication.
Teigen also previously told E! News that this pregnancy was harder because she was already watching out for Luna. Even with Legend and her mom around and helping, that's not an easy task for any woman.
Given what they've said in the past, and most recently, it seems like they want a big family. But who knows, maybe two kids will end up being the perfect number for them. As of right now, though, it seems that both Legend and Teigen are more than happy with their two adorable kids.