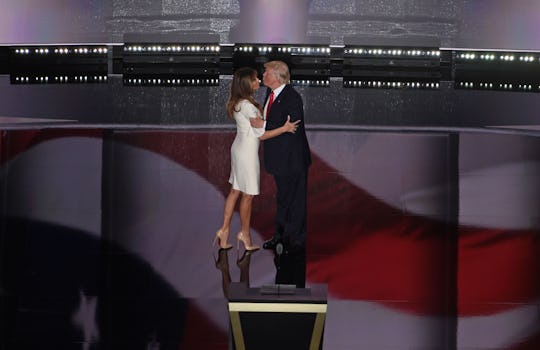 DOMINICK REUTER/AFP/Getty Images
Do Donald & Melania Trump Want More Kids? Trump Draws The Line At 5
It's pretty well known that Republican presidential nominee Donald Trump has five children with three different women, but only one was conceived with his current wife, Melania. So will the candidate stop at five, or do Donald and Melania Trump want more kids? It looks like 70-year-old has finally decided to cease production on his line of Trump Children. It's no secret that Trump has never been a hands-on parent. In a 2012 Parenting interview, Melania described herself as a "full-time mom" whose husband didn't change diapers or put his son to bed. And Donald famously told Howard Stern in 2005, "I like kids. I mean, I won't do anything to take care of them. I'll supply funds and she'll take care of the kids."
Finances aside, being essentially a single parent to one child must be challenging enough for Melania. In 2013, when asked by ABC News if she was interested in having more children she responded, "I don't like to say never, but my life is very busy. We are happy and my hands are full with my two boys — my big boy and my little boy!" Her husband finally shut down all speculation during a town hall in April of this year: "We're not really thinking about having more kids," he said, according to People.
It's probably for the best, seeing as Donald doesn't seem to have much time for the kids he already has. Ivanka Trump, who, according to Bravo, is admittedly his favorite child, once claimed that "He always made us his top priority," even though "he wasn't always physically present." This is a far more generous interpretation of what her mother, Ivana, told Fashion Week Daily. When Donald and Ivana divorced in 1992, she retained full custody of Donald Jr., Ivanka, and Eric. "I really raised them," Ivana said in a February interview. "I decided on their schooling and everything they did. When they were 21 and out of university, I gave them to Donald and said, 'This is the final product — now it's your job.'"
Similarly, fourth child Tiffany Trump, the only product of Donald's marriage to Marla Maples, once told DuJour magazine, "I don't know what it's like to have a typical father figure." Her parents divorced when she was 5 years old, and she moved with her mother to California. According to the New York Post, she spent just two weeks a year with her famous father. And last year, Melania told People, "Barron loves to be one-on-one with Dad because normally he's almost always all the time with me." In the same interview, Donald claimed that Barron didn't have a nanny, but he later admitted to the Post that he actually did have a "young woman" who "works with Barron." Even if Donald did have another kid, it seems it wouldn't be raised by him, anyway.