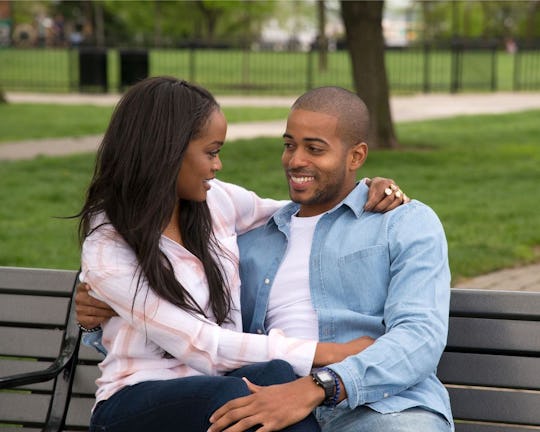 Randy Sager/ABC
Eric & Rachel Head To The Fantasy Suite On 'The Bachelorette'
It's time for the Fantasy Suite dates on The Bachelorette, that magical day of the year when everyone speculates wildly about someone else's sex life then judges accordingly. So, do Eric and Rachel have sex in the Fantasy Suite? The Bachelorette is allowed this private time, and we should all stop whispering about who she may or may not have had sex with.
The Bachelorette is a weird show that expects people to fall in love in very weird circumstances. Contestants only spend time with the show's lead in very small snippets. Even on one-on-one dates they are constantly followed around by an entire crew of producers and cameras while hooked up to microphones. So those romantic gondola rides probably aren't as romantic as they appear. The Fantasy Suite dates are supposed to allow the lead to spend some actual time with his or her prospective spouse without all of America listening in. Sometimes, yes, that includes sex because physical intimacy is an important component of a healthy relationship. But speculating about who had sex with whom and what that means for so-and-so's chances always feels a little gross to me. Like, just let this girl live. And have sex with whoever she feels like.
Always the class act, current Bachelorette Rachel Lindsay has been vague about whatever bow chicka wow wow went down in the fantasy suites, but she's not shying away either. At the beginning of the season, Rachel told ET Online that she didn't envision herself getting intimate with everyone in the Fantasy Suites. Just recently, she told the outlet that she is a "woman of her word," and kept true to what she said at the beginning. "I just said, I didn't do it with everyone," she said coyly, obviously implying that she was intimate with someone.
Rachel continued by saying, "Fantasy suites were huge for me. I walked in with a list of questions I had. You can't cover everything with the limited amount of time you have. It's the first time you have extended time with this person, for me, it's like, if I'm taking the next step, I have a list of questions."
Was Eric the one she had sex with? I don't know, and the more I talk about it, the more icky it feels. Personally, I think that sex is important in a relationship, and I'd certainly want to know what my future husband was like as a sexual partner before I got engaged, but I definitely wouldn't want the world asking me questions about it. So let's stop asking this question and just hope that none of these guys pulls a Nick Viall and spills the beans on After the Final Rose.