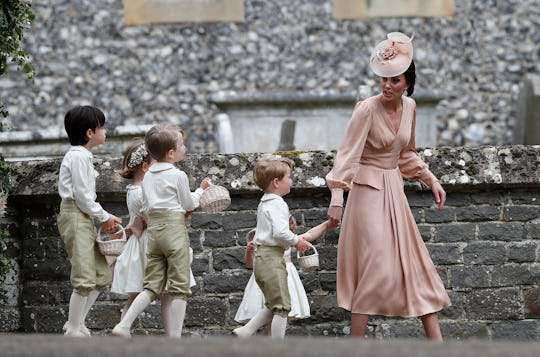 WPA Pool/Getty Images Entertainment/Getty Images
Dear Jenny: Do I *Have* To Attend A Wedding After Having A Baby?
Our resident advice-giver-outer Jenny True provides shouty, full-hearted answers to your niggling questions about pregnancy and parenthood in her column What The Actual. Warning: This is not a baby-and-me singalong, this is about yelling into the cosmos and actually hearing something back, sometimes in the form of an all-caps swear. Jenny isn't an ~expert~, but she has a lot of experience being outraged on your behalf. To submit your questions to Jenny, email advice@romper.com.
Dear Jenny,
I had a baby at some point in the long cold winter, and now wedding season is here. And not just wedding season but royal wedding season. I have been invited to a relative's wedding and the general vibe is "Wow, lucky you a night out!/Time away from baby will be good for you!" But I'm actually not sure I want to go. I don't feel oppressed by my role as mom to a little baby that I haven't left for longer than two hours yet, and I don't fancy getting dressed up for a wedding. I am for sure not enthusiastic about pumping at the wedding, which I would almost certainly have to do.
I get that weddings are a life event you should be there for, the same way people were there for me with many, many inexplicable newborn hat options when I had my baby, but do I have to go to this?
Something Borrowed, Something Secretly Wanting To Be Home Watching Netflix
Dear Something Borrowed,
The short answer to your question is HELL NO.
Here's your justification:
Every mother has a story. I was kicked out of the hospital two days after giving birth, and this is THE NORM. I couldn't walk and hospital staff literally WHEELED ME TO THE DOORS OF THE PARKING LOT, where my husband, who hadn't slept in SEVENTY-TWO HOURS, was told to drive his wife and newborn child home via a HIGHWAY.
Then, when my son was three weeks old, I spent days on the phone with him in my lap, arguing with GUARDIAN INSURANCE and the EMPLOYMENT DEVELOPMENT DEPARTMENT, because the payouts I was entitled to as a private employee who had paid into a disability policy and as a resident of California were mysteriously not being dispersed. BOTH ORGANIZATIONS HAD CLERICAL ERRORS ON THEIR SIDES THAT TOOK ENDLESS PHONE CALLS AND FINALLY MY H.R. DEPARTMENT GETTING INVOLVED TO GET RESOLVED. I COULD HAVE BEEN BONDING WITH MY SON.
And guess what I had to do two days after getting home: FOLD MY WEEPING LABIA INTO A PAIR OF MESH UNDERPANTS AND TAKE MY BABY TO THE HOSPITAL. Not so a doctor could check my stitch or bleeding hemorrhoids or blood pressure or just ask how I f*cking felt, but so a doctor could check out the F*CKING BABY. HE'S FINE BUT I STILL CAN'T WALK AND I'M BLEEDING FROM MY VAGINA AND SPRAYING NUMBING SPRAY ON MY LABIA AND TAKING 500 MILLIGRAMS OF ACETOMINOPHIN AND I CAN'T STOP LAUGHING OR CRYING AND I'M HAVING FANTASIES ABOUT ALL THE WAYS MY BABY COULD DIE AND ONE TIME WHEN MY HUSBAND WAS ASLEEP I HAD A PANIC ATTACK IS THIS NORMAL.
Of the world's 196 countries, this f*cking country is one of only four that do not have federally mandated paid parental leave. DO YOU UNDERSTAND WHAT I'M SAYING EVEN THOUGH WE'RE USED TO OUR SH*TTY PARENTAL LEAVE SITUATION BECAUSE WE DON'T KNOW ANYTHING ELSE NEW MOTHERS SUFFER NEEDLESSLY.
You're a new mom, and you get a pass on everything: returning phone calls, texts, and emails, writing thank-you cards, showing up on time, showing up at all.
But it wasn't all a horror show. In fact, I consider myself one of the lucky ones: I had five months off with my baby. And for the most part, my maternity leave was GLORIOUS. For six weeks friends brought fresh food to our door (thank you, Meal Train!). Family came from as far away as China to sit with the baby, prune our trees, weed our yard, do our laundry, cook, clean, mop our floors, and vacuum. And I went days without leaving the house because I DIDN'T WANT TO.
I held my tiny son and bounced him in the kitchen to Motown and hip-hop. I lay with him on the couch for more than two hours as he slept, listening to the rain on the skylight. I sat in the garden under the loquat tree and watched him watch the scimitar-like leaves and listen to the parrots and the crows. In the mornings I sat on our bed and propped him against my thighs with his little butt on my stomach, his tiny feet in tiny socks, and listened to his helium voice, gazed at his tiny perfect O of a mouth, watched him learn to use his neck, discover his hands, discover his ears, learn to smile, learn to laugh. I held him against my skin and fed him from my body.
So: From the beginning, new moms are fending for ourselves, and the time we manage to eek out with our babies is precious. But in addition to irresponsible hospital policies and a complicated, and sometimes nonexistent, maternity leave system, new moms are BOMBARDED with unrealistic expectations that have NOTHING TO DO WITH OUR HEALTH AND WELFARE OR THE HEALTH AND WELFARE OF OUR CHILDREN. See: giving up that precious time together and going back to work, going back to the gym, hosting family members, keeping our houses clean, and, that most ridiculous thing of all, SOCIAL OBLIGATIONS. OH HELL NO.
Weddings are important. I've missed enough and sabotaged enough others that I'm keenly aware that appearances at these events and, apparently, behavior while at them is important (IF YOU DIDN'T WANT ME TO LOCK THE ONLY BATHROOM AVAILABLE TO GUESTS AND THEN HOOK UP WITH THREE PEOPLE IN A ROW THEN WHY DID YOU INVITE ME).
But you're a new mom, and you get a pass on everything: returning phone calls, texts, and emails, writing thank-you cards, showing up on time, showing up at all. This time with your baby is more important and, as everyone loves to tell you, fleeting. Protect it, especially if you are, as you say, not feeling oppressed. There's no do-over for missing time with your kid.
Also, say you aren't particularly enjoying time with your baby, but you still don't feel like spending your limited time and energy going to a wedding, YOU STILL DON'T HAVE TO GO. WATCH NETFLIX AND EAT ICE CREAM WITH A FORK. A BABY CAME OUT OF YOUR BODY AND NOW IT HAS DEMANDS. YOU GET TO REST.
Finally, anyone who doesn't understand a new mother not attending a wedding is A F*CKING PTERODACTYL. It's nice that they invited you. But expecting you to get gussied up, arrange and pay for child care (or, WORSE, attend your child at the wedding, ensuring you'll be doing nothing more than attending your child at the wedding), lug around breast pump equipment, pump in a bathroom, make small talk about sh*t that is no longer relevant to your life … just NO. YOU DON'T HAVE TO GO.
ONCE YOUR KID IS OLDER YOU CAN GO BACK TO DRUNK YOGA IN A DECK CHAIR WITH THE GROOMSMEN. IF YOU HAVE THE ENERGY AND SCRATCH TO BUY A GIFT OFF THE REGISTRY, DO SO. BUT SEND YOUR REGRETS AND THEN GAZE AT THAT PERFECT MOUTH, THOSE CHEEKS, THAT CHIN, THAT NOSE, AND KNOW DEEPLY THAT YOU MADE THE RIGHT DECISION. YOU GOT THIS.
<3 Jenny
Are you currently asking yourself What The Actual about a parenting sitch? Send a question to Jenny by emailing advice@romper.com.