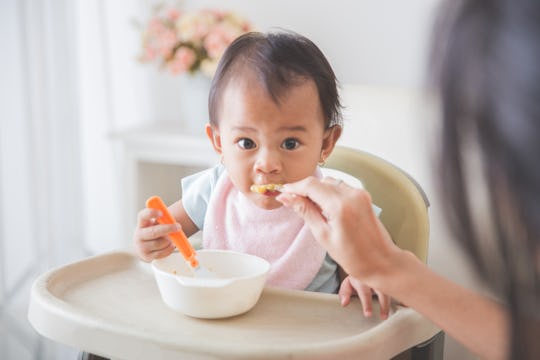 Odua Images/Shutterstock
3 Foods You Don't *Have* To Feed Your Baby, According To Dietitians
When it comes to what to feed your baby, and when, there are plenty of opinions out there. Of course, most parents stick to the newborn to 1-year-old feeding guidelines set forth by the American Academy of Pediatrics (AAP). However, parents with concerns about some of the suggested foods may wonder: do I have to feed my baby cereal and everything else on this chart?
Plenty of parents will remember the news breaking that baby rice cereals contained arsenic, and in much higher amounts than the Food and Drug Administration (FDA) deems safe. Others may have concerns about hormones in dairy milk, or eat meat-free diets and aren't comfortable giving their babies meat.
So, what are some alternatives to these seemingly strict guidelines? Sharona Lazar, RD, registered dietitian at Providence Tarzana Medical Center in Tarzana, California, tells Romper that the most important part of any baby's diet is making sure their nutritional needs are being met at each stage of their development.
"The Academy of Nutrition and Dietetics has a lot of information from dietitians and pediatricians that parents can google at Eatright.org, whether it's recommendations for feeding for the first year, or vegetarian or vegan alternatives, or concerns for allergies, et cetera," she says.
Angie Weiss, nutrition services director at Wichita Falls Area Food Bank in Texas, tells Romper that most babies will still get all the vitamins and minerals they need from breast milk or formula, but they need to explore with new foods.
"I stress balance and trying to eat from all five food groups," Weiss says. "If any nutrient deficiencies occur, that would be a concern. With babies, the most important thing is that they're trying new foods, which is not necessarily going to be their main source of vitamins and minerals because hopefully they're still breastfeeding or formula-fed."
Specifically, here are three foods you don't absolutely have to feed your baby, and two you actually do.