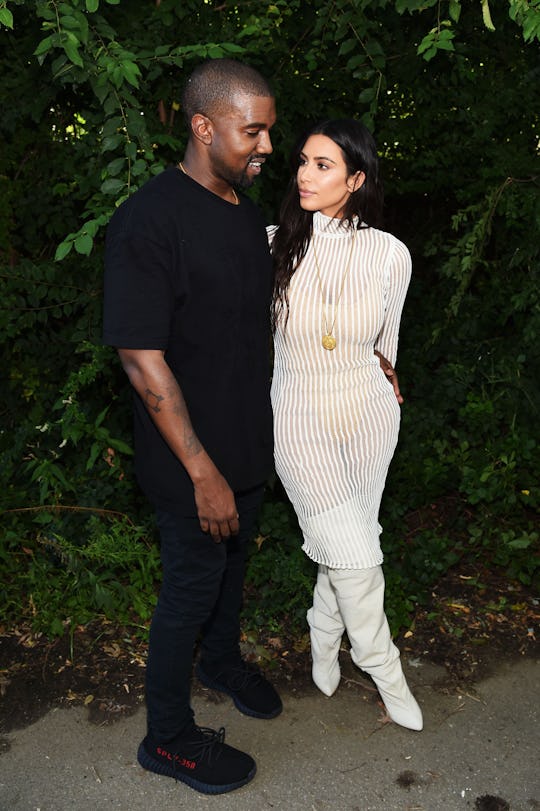 Jamie McCarthy/Getty Images Entertainment/Getty Images
Do Kim & Kanye Already Know What They're Going To Name Baby No. 3?
Kim Kardashian and Kanye West (and their legions of fans) are this closing to welcoming their third child into their family. There's no doubt that this power couple is all ready to go, as they're already parents to their 4-year-old daughter North and 2-year-old son Saint. So, with the clock ticking down on their surrogate's pregnancy, those trying to keep up with the Kardashians probably want to know: Do Kim and Kanye know what they're going to name the baby? Well, it seems as though fans are going to have to wait a little bit longer for that information, because the answer is apparently "no." At least that's according to an anonymous source who spoke with Us Weekly about the couple's baby-naming progress recently.
Here's what the unnamed source told the magazine of the baby, who is reportedly due sometime right after Christmas:
Kim and Kanye don't have a name picked out yet for the new baby. They are both so excited for their little girl to arrive.
They still have time, though. And this unnamed source brings up a good point about Kardashian/West baby number three, even if we don't yet know what she will be named: Kardashian did recently confirm that the baby is a girl.
During an appearance on The Ellen DeGeneres Show last month, Kardashian shared a cute story about how North offered to play with the new toys people had given to her "baby sister" at her baby shower before she arrived — to make sure they were all in working order, of course.
The context in which Kardashian revealed the sex of her baby led many to believe that she had done so by accident, but, whether that's true or not, she has not had any similar slip-ups when it comes to keeping the identity of her surrogate private. In fact, she said on Sunday's episode of Keeping Up with the Kardashians that she's dedicated to protecting that woman's privacy no matter what:
The fact that this is just what we can do these days, I'm like really thankful. Like I'm seriously so grateful for her and that someone is just so like selfless and kind to do this. And I definitely want to keep it private. I don't want people to find my surrogate. Like I don't want them to harass her. Like she doesn't know how to handle stuff like that, this isn't her world.
Whatever Kardashian and West decide to name their new baby, chances are that they won't go with a "K" name, as is tradition on her side of the family. In a 2013 episode of Keeping Up with the Kardashians that aired right around the time that North was born, Kardashian shared that she opted not to give her firstborn a "K" name to avoid ending up with a family nickname that doubled as a shoutout to a white supremacist group. "If we name our kid with a K name which is kind of what we want, mainly just because Kanye and I are Ks, then they're going to call us the KKK," she said at the time, according to E! News.
Seems like pretty solid reasoning, if you ask me. But the fact that Kardashian was thinking about her first daughter's name and discussing it before she was born indicates that she and her husband are likely doing the same now — even if they're not ready to share their thinking with the world. I'm willing to bet that, even though Us Weekly's source said they don't know what name they're going to land on, Kardashian and West probably have some pretty strong contenders in mind.
Check out Romper's new video series, Romper's Doula Diaries:
Watch full episodes of Romper's Doula Diaries on Facebook Watch.