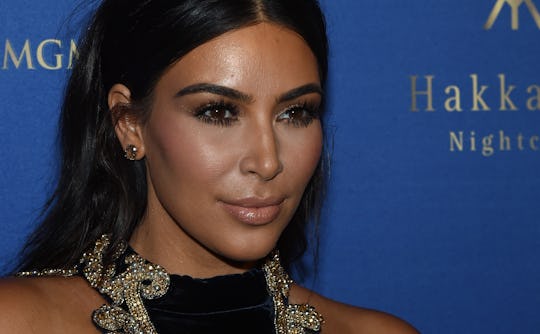 Ethan Miller/Getty Images Entertainment/Getty Images
Kim Kardashian Opens Up About Her Surrogate, & It's So Touching
Kim Kardashian-West is expecting her third child, a daughter, via surrogate in the new year. The reality star actually confirmed the news, unlike a few of her sisters I could mention (let's not go down that road, I guess). It's big news for Kardashian-West and her husband, rapper Kanye West, not simply because they're going to be parents again but because the circumstances are a little unusual. And another fair point to Kardashian-West — she's refreshingly honest about the experience. On the most recent episode of Keeping Up With The Kardashians, Kim discussed losing an embryo and the "painful" decision to hire a surrogate to carry her third child.
Kardashian-West carried both of her first two children, 4-year-old daughter North and 2-year-old son Saint, but struggled with serious health issues throughout both pregnancies. As the children's clothing designer wrote on her website, she suffered from a condition called pre-eclampsia, where the flow of blood to the placenta is reduced and can mean that the baby won't get enough oxygen. The dangerous condition is why she and husband West decided to hire a surrogate to carry their third child. But that doesn't mean it's been an easy decision for Kardashian-West; as she told older sister Kourtney on Sunday night's episode of KUWTK, according to Cosmopolitan:
Getting a surrogate and finding someone that you really trust really is so much more difficult of a situation than you could really imagine. You have to like make sure that their lifestyle is healthy and they have to go through psychological testing, and it was maybe a year before we finalized our current situation.
To make matters more difficult, Kardashian-West said that she lost an embryo when she had a fertility procedure to have son Saint. When she met the surrogate, she admitted she felt a strong connection with her and decided to try one embryo to see if it would take. They had to wait 10 days, which was especially difficult for Kim, according to sister Khloe:
Before Kimberly got pregnant with Saint, she had an embryo implanted into her and that embryo did not take. So Kim is super nervous and anxious during this waiting period. Of course she wants to know is she or is she not having another baby.
Of course, as the world now knows, the fertility procedure with Kim's surrogate was successful, and she is now expecting a daughter, according to The Sun. And while it might be an emotional time for her, she also says she is incredibly grateful to her surrogate. She also explained why she's protective of her surrogate's privacy, as she said on KUWTK:
The fact that this is just what we can do these days, I'm like really thankful. Like I'm seriously so grateful for her and that someone is just so like selfless and kind to do this. And I definitely want to keep it private. I don't want people to find my surrogate. Like I don't want them to harass her. Like she doesn't know how to handle stuff like that, this isn't her world.
Kim is understandably grateful to her surrogate, but sometimes finds the situation a little complicated, as she told sister Kourtney, according to People:
It is frustrating to not be able to do it on your own. It is a weird dynamic. Like I go to all the doctors' appointments and I try to be really present, but when you're not carrying it yourself, it is such a fine balance of how much you're going to be in their lives.
Soon enough, the baby will arrive and hopefully Kim will find her balance.
And perhaps then she could convince a few other members of the KarJenner camp to let us know if there might be any *other* pregnancy news they might like to share with the world.
Check out Romper's new video series, Romper's Doula Diaries:
Watch full episodes of Romper's Doula Diaries on Facebook Watch.