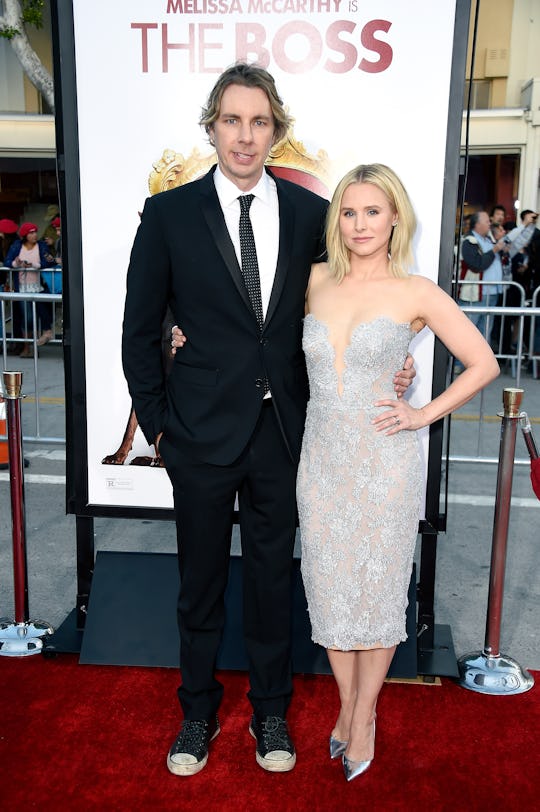 Frazer Harrison/Getty Images Entertainment/Getty Images
Kristen Bell & Dax Shepard Know Where They Stand On Having More Children
Between their busy careers and caring for their two children, Kristen Bell and Dax Shepard have a lot on their plates. They have opened up about life as parents on Instagram and in interviews on multiple occasions, and it is apparent that they love being parents to their daughters. It's been almost four years since they last welcomed a child, so fans may be itching to know if Kristen Bell and Dax Shepard want more kids.
In Feb. 2016, a few months after welcoming her second baby, Bell took a break from mommy duties to appear on The Ellen DeGeneres Show. When DeGeneres asked the mom-of-two if she planned to have any additional kids, she didn't hesitate in her response. "No. No, no. We don't want to be outnumbered," Bell told the talk show host, Us Weekly reported at the time. "Until, I suppose, I accidentally get pregnant and my third child watches this clip and realizes that he was an accident. Sorry, honey. No, but we're gonna cap it at two."
Not to mention, it seems unlikely that the two would even be able to conceive again. Two years after Bell's Ellen appearance, in May 2016, Shepard appeared on Jimmy Kimmel Live, where he told Kimmel that more kids were not in he and Bell's futures. In fact, Shepard revealed that he got a vasectomy the year prior, E! News reported.
Shepard continued by explaining what prompted him to get a vasectomy. He told Kimmel, as per E! News:
Last year, my wife was working in Atlanta ... We were there and she all of a sudden goes, "Oh, my gosh! I'm so stupid. I've been sick for 10 days and ignoring it; I'm definitely pregnant." And I was like, "We're going to turn into Jon & Kate Plus 8 or something. We already have no life! This is going to be not worth living." I freaked out. It was so bad. That was Tuesday and she had to work, so for eight hours we didn't get a pregnancy test. For eight hours I was like imagining my life with all these kids. That was Tuesday. I flew home Wednesday for a meeting. Thursday morning I had a vasectomy.
That's some really quick decision-making, Dax. "Kristen was not thrilled that I did it so quickly," Shepard admitted, according to E! News. "But I'm a man of action, so I was in and out. I was back in Atlanta two days after that shooting a Samsung commercial."
A few months later, Bell appeared on Kimmel, and she made it clear that she was totally fine with her husband getting a vasectomy — and with the fact that he shared the tale on TV. "He did," she told Kimmel, when asked if Shepard asked her permission to tell the story on the show. "He's very respectful in that regard, but also, we are people that like embarrassment. I think it makes everything a little lighter and brighter when you can be cool about your embarrassing stories."
Bell and Shepard seem like they are such great parents to their daughters Delta and Lincoln, so it's a bummer that they don't plan to raise any other kiddos. But that doesn't mean there is any shortage of Bell-Shepard family content. For example, earlier this week, Bell Instagrammed a photo of her daughters' latest prank. "Today my children have inexplicably decided to start taping loose pieces of gum to our chairs," Bell captioned a photo of just that. "I have a feeling this is all part of a larger plan..."
Even though many of their posts are goofy, Shepard recently went the sentimental route in honor of his daughter Lincoln's first day of kindergarten.
"5-years-old. Driving the boat last week. First day of kindergarten today," he captioned the sweet photo of himself and Lincoln on their boat, adding, "Life is damn sweet ♥️♥️♥️♥️♥️♥️♥️♥️♥️♥️." For Bell and Shepard, it sure sounds like it.