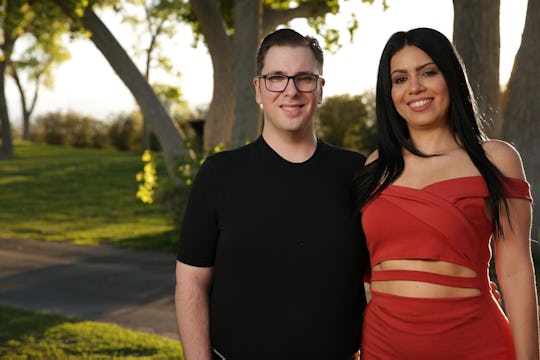 Courtesy of TLC
Here's The Deal On Larissa & Colt Living With Colt's Mom On '90 Day Fiance'
Moving to the United States and suddenly bunking up with your new fiancé is usually difficult in itself, as most 90 Day Fiancé fans know. But add a mom into the mix, and things can get seriously... complicated. Larissa and Colt had to deal with that on this season of 90 Day Fiancé, because 33-year-old Colt still lived at his mom's house. So now, fans are wondering: Do 90 Day Fiancé's Larissa and Colt still live with Colt's mom, Debbie?
The biggest hint regarding this question is in Debbie's Instagram bio. "I live in Las Vegas with my son who helps me financially since the passing of my husband of 26 years," her bio reads. She only made her first Instagram post last month, on Oct. 6, so it's likely that her bio is still accurate and that she does still live with Colt.
Another clue came on Thursday, when Larissa conducted a Q&A with fans on her Instagram story. The same headboard and bedspread that was in Colt and Larissa's bedroom when she first arrived at his house is visible in the background of most of her Instagram story. In the show, there are no decorations in the bedroom, but in the story, there are a few pieces of art hanging above the headboard. Additionally, in later clips in the Insta story, she is sitting on the floor leaning on a plush couch, and in other clips, a high-tech fireplace cackles in the background. So basically, they either moved to a new house, or she did as Debbie suggested and redecorated the current house.
The fact that Colt shares a house with his mother and helps with her finances has been a source of contention for Colt and Larissa so far this season. Based on social media posts, it's clear that the couple is still together, which means there's a chance they tied the knot, since Larissa's 90-day K-1 visa must be up by now. "We are together and strong. We just choose don't expose it," Larissa captioned a shot of her and her man earlier this week. (Note: Larissa's instagram is set to private so you'll have to request to follow).
From the moment Larissa landed in Las Vegas from Brazil, she had her doubts about the city. "Larissa has only been in Las Vegas for three hours, and she has literally not stopped complaining since she arrived here," Colt told the cameras on the show. And Larissa didn't disagree.
"When Colt told me that he live with his mother, I got worried. I can't lie and say, 'No, I love it,'" Larissa narrates in another scene. "I don't like the house because it's small. No furniture in the living room, and it's ugly decoration."
And when Larissa sat down with Colt and Debbie, she reiterated that feeling. "In three hours, I hate Las Vegas and I would like to move to other planet, but I can't, so I would like to move to other house," she told them. Larissa suggests maybe moving to a bigger house with a pool, but Debbie tells her that she can decorate the house any way she likes, making it clear that Debbie is not ready to let go of living with her son.
But still, even greater than Larissa's disdain for Las Vegas and for the house is the fact that her fiancé lives with his mother at all. "I feel like the largest barrier for us will be just to learn to live with my mother," Colt admits to the cameras. "My mother and I had our thing going for many years, and now Larissa is here, and it's different, but it's good. I think we can have a really good life together," he adds, making it clear that he isn't ready to let go of being roommates with his mama.
Here's hoping fans have an answer about where Colt and Larissa live by the end of this season!