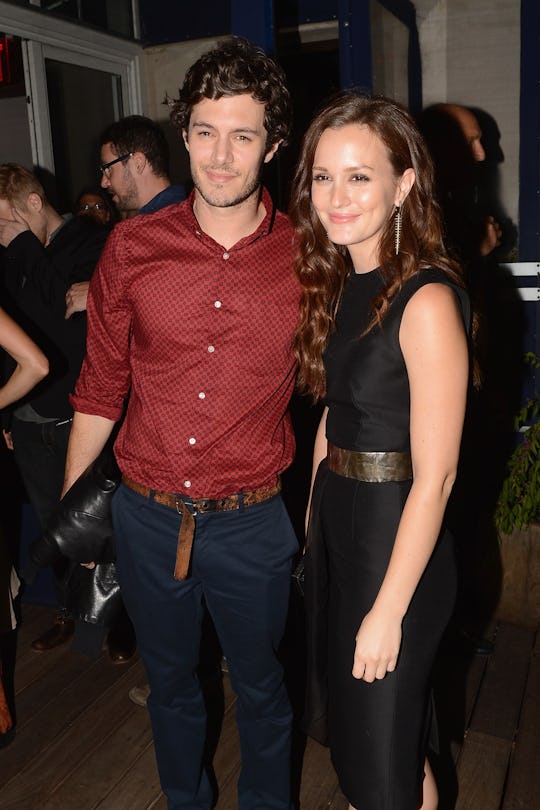 Andrew H. Walker/Getty Images Entertainment/Getty Images
Leighton Meester & Adam Brody Have Kept Quiet About Wanting To Expand Their Family
Adam Brody and Leighton Meester's marriage is something that people likely wrote fan fiction about once upon a time. This is because both Meester and Brody starred on beloved teen drama shows — The O.C. and Gossip Girl — from the early 2000's. So when they did get married (and started a family) people of course were dying to know more about them and their private lives. Because of this, it's no surprise that people want to know if Meester and Brody want more kids. But unfortunately, they might not like to find out that the answer to that question is something that has yet to be determined.
Earlier this week, Meester shared a rare update about her daughter, Arlo Day Brody, whom she welcomed into the world with Brody on Aug. 4, 2015, according to People. Arlo is a toddler now, and so it was appropriate that Meester finally let people into their home life when she told Us Weekly last week that her daughter had a "job" and that job is to "play." The way Meester talked about her daughter in the interview seemed like Meester had parenting all figured out. And if she has her toddler figured out that well, then she's probably ready for one more, right?
Not quite. Because Meester and Brody are so private about their relationship and their daughter, neither have talked about wanting more kids or trying to expand their family. However, there is some indication that you shouldn't rule out Meester and Brody not expanding their family in the near future.
After the couple secretly tied the knot in February 2014, according to People, they've continued to not make too many public appearances with one another, limiting their public interaction to an occasional red carpet outing or charity event (they're big fans of volunteering at the LA food bank, according to the Daily Mail). Yet in a rare interview eight months after she got married, Meester revealed that she had Brody had plans to start a family, according to E! News. Meester told NYLON, according to E! News:
Most people I know are starting to get married. It'll be kids next. I like the grown-up stuff. I like having a house. I've got dogs.
A little less than a year later, Meester gave birth to Arlo, so she wasn't far off when talking about this plan. But notice one key word in that interview — Meester said kids, not "it'll be a kid next." So she didn't necessarily rule out having having more than one child. But at the same time, she didn't confirm anything, either.
Meester is so selective about talking about her family and husband for a reason — and it isn't because she wants to hide anything from her fans. It's simply because she wants to use her time in interviews to talk about other things instead (and you really can't blame her). During an interview with Refinery29 last year, according to People, Meester claimed that while she was proud of her daughter and proud to be a parent, she was also pretty proud of her work as an actress, too. "I think the perception is: you're an ingenue, or you're an icon, or you're a mom, there's no in between."
Just like when celebrities on the red carpet advocate for interviewers to ask women more about their careers or their beliefs than what they're wearing (which was seen through the campaign #askhermore), Meester is advocating for the same exact thing. Instead of focusing on her life as a mother, she wants people to talk about her killer roles. There's absolutely nothing wrong with that.
Although expanding their family might not be out of the picture for Meester and Brody, at the same time, it's not likely that you'll hear either of them talking about wanting more kids any time soon.