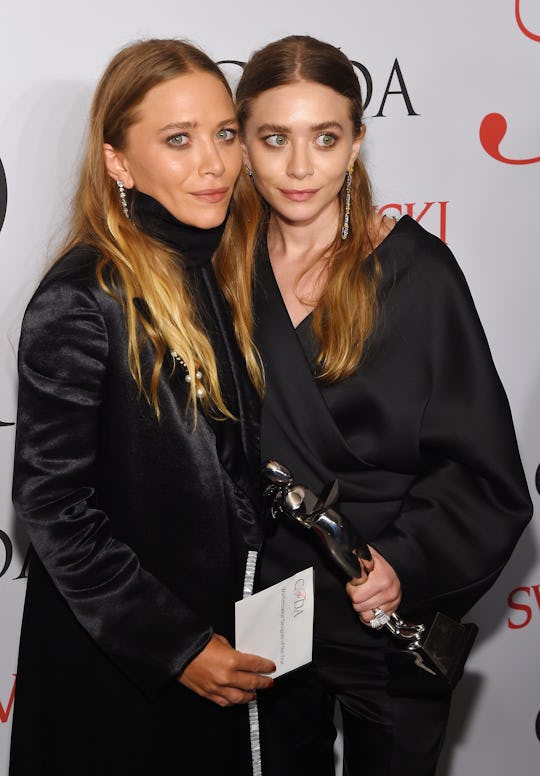 Larry Busacca/Getty Images Entertainment/Getty Images
Do Mary Kate & Ashley Olsen Regret Not Being In 'Fuller House'? Because Everyone Else Wishes They Were There
Have you ever been invited to a party and didn't show? Maybe because you thought it might be lame, or you thought you might have something better going on. But, then, it turns out the party was fabulous and you regretted it? I'm wondering if Mary Kate and Ashley Olsen are regretting not being on Fuller House, because it kind of seemed like that kind of party. (A little bit?)
Let's face it, nobody knew whether or not Fuller House was going to be a success. Though they seriously should have known. Spend, like, five minutes on Twitter and you'll see we all have a voracious appetite for '90s nostalgia. Now that the series has been picked up for a second season and the Tanners are feeling all the feels all over social media, maybe the Olsen twins are taking notice. Maybe they're all, "Oh ,this would have been a great venue to showcase my slouchy jeans and bright-colored heels and giant sunglasses. Damn!"
But, was the success of the series (or possible lack thereof) what was really holding the twins back from joining the cast? It's not like success has been much of a problem for the famous twins who once played adorable youngest Tanner daughter (and cherubic Queen of the catchphrase) Michelle. The twins run two fantastic fashion lines, The Row and Elizabeth and James — something that got a little playful dig from the Tanner gang on the Fuller House series premiere.
In fact, the show has been super self-aware about the absence of the famous Tanner daughter. Throwing a little (harmless?) shade at Michelle every now and then.
But have the Olsen twins been paying attention? Have they been rethinking their decision to bow out of the reboot? It turns out the viability of the show wasn't what had the twins worried.
Ashley Olsen, for one, was apparently not comfortable with acting in general, executive producer Bob Boyett told People magazine:
Ashley said, 'I have not been in front of a camera since I was 17, and I don't feel comfortable acting. Mary-Kate said, It would have to be me because Ash doesn't want to do it. But the timing is so bad for us.
Neither of the Olsen twins have made their feelings about Fuller House public since it hit Netflix in February. But the show's creator, Jeff Franklin, has made his feelings on the subject of their absence pretty clear. When he was asked by Vulture whether or not Netflix was worried about the loss of the Olsen twins, he said:
Yeah, that was a giant bummer, but their participation was never a precondition for doing that show. I hoped that they would come back and do one episode but I didn't think that they were going to be regulars.
Meanwhile, fans are holding out hope that Uncle Jesse (smokin' hot John Stamos) manages to convince them to even have maybe a small cameo in Season 2. He's certainly has been campaigning his handsome little heart out.
They might have missed the first party, but everyone is totally begging them to come to the second one. Though they don't seem to be jumping at the invites, or speaking out about how they loved (or hated?) the series, hopefully one of them will finally consider a cameo.