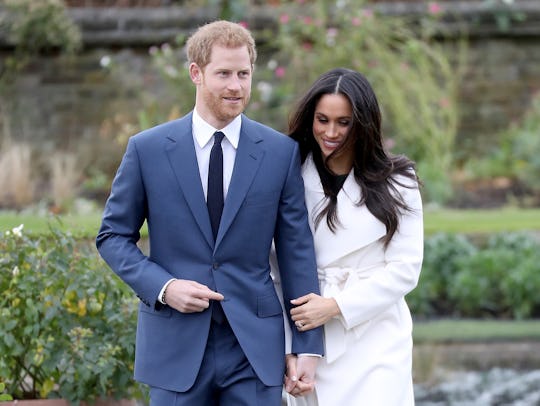 Chris Jackson/Getty Images Entertainment/Getty Images
Meghan Markle & Prince Harry Will Probably Honor This One Classic Wedding Tradition
I'm going to level with you, I'm a tad bit obsessed with Prince Harry and Meghan Markle's upcoming wedding. Ever since I saw their "coming out" interview to the BBC, I knew they were a royal pair I could really get behind. And now with their wedding just about a week away, my mind is racing with the pressing questions. What designer will she choose for her dress? What will their wedding hashtag be? And perhaps most interesting of all, will Meghan and Harry be together the night before their wedding? It's time to do a deep dive into everything we know about Harry and Meghan's upcoming nuptials.
The couple is already living together in a small cottage on the grounds of Kensington Palace, according to W. But it's unlikely that the pair will spend the night together there before their big day, and that will only make their first sighting of each other at the wedding that much more exciting. The Windsors tend to be all about protocol, and if the Queen has to approve Meghan's choice of wedding dress, you can only imagine her thoughts on the young couple sharing a bed on the eve of their wedding.
So where is the groom likely to stay? The Prince's official Press Secretary put out a statement saying, "Prince Harry and his brother The Duke of Cambridge will arrive at St George's Chapel most likely by foot and will enter via the West Steps." If Harry is walking to his wedding, it stands to reason he's staying close by, perhaps at Windsor Castle.
As for the former Suits star, all we know is that she'll be staying at a top-secret location and arriving to the ceremony by car. "On the morning of the wedding, Markle and her mother Doria Ragland will depart by car together from the "bride's overnight location," reported Town & Country.
If you're counting down the minutes until you can watch these lovebirds say "I do," then you're going to need to rise early. The televised nuptials will take place at 7 a.m. Eastern Time, and last about an hour, according to CNN. Following the ceremony, the bride and groom will take a two-hour tour of Windsor to greet the public for the first time as man and wife, reported the Telegraph. It is sure to be a memorable moment, just like it was when Kate and Will greeted their fans on the Buckingham Palace Balcony on their wedding day.
You can watch it all on the big networks, NBC, ABC, and CBS, as well as on non-cable options like HBO, which will have comedians-turned-commentators, Will Ferrell and Molly Shannon, hosting "The Royal Wedding Live with Cord and Tish!, starting at 7:30 a.m. EST. For those looking to stream the ceremony, there are also plenty of sites that will have coverage of the action happening across the pond.
While Prince Harry and Ms. Markle probably won't be spending the night before their wedding together, they most definitely have amazing honeymoon plans lined up after they become Mr. and Mrs. "A source has confirmed to Travel + Leisure that Harry and Meghan have indeed chosen Namibia as the country where they will spend their first vacation together as husband and wife," Travel + Leisure reported in April.
The duo have a history of jetting off to Africa to spend quality time together. In fact, their third date was a five-day camping trip in Botswana, according to Town & Country. Harry told the magazine, "We camped out with each other under the stars, sharing a tent and all that stuff. It was fantastic."
Whether the newlyweds do indeed travel to Namibia will soon be confirmed, but one thing that will remain tightly under wraps is what exactly happens in the honeymoon suite. Pop star and fashion icon Rihanna, who recently launched a lingerie collection called Savage X Fenty, did have one piece of advice for the couple. "Really, on your wedding night, you could do whatever you want," Rhianna said in an interview with CNN. "It depends on how savage you wanna be."