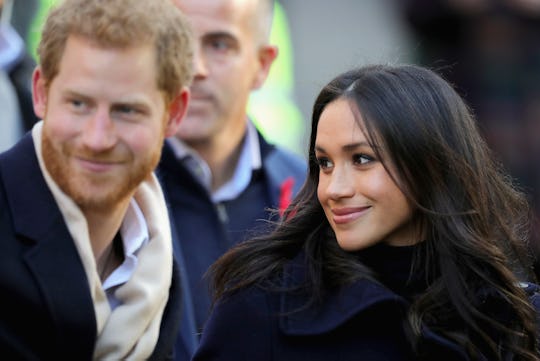 Christopher Furlong/Getty Images Entertainment/Getty Images
Here's Everything You Need To Know About How To Stream The Royal Wedding
Prince Harry and Meghan Markle's wedding is just around the corner and there's no denying that it's sure to be a huge event. Viewers will be tuning in from all over the world to see it all unfold and if you're across the pond, you may be wondering how to stream the royal wedding without booking a last-minute flight to London. As it turns out, there are actually a few options for those who don't have typical cable, but you have to be willing to get up pretty darn early to see it live.
Indeed, May 19 is sure to be an exciting day and while many in England will simply be able to tune into their news station, those across the pond here in the United States of America don't have as many options to catch the happy occasion. But, fear not, fellow royal-obsessors, there are ways to watch it all go down.
There are a few ways to watch the royal wedding online. For starters, both ABCNews.com and GoodMorningAmerica.com will stream the wedding ceremony, according to Cosmopolitan, starting at 5 a.m. EST, and you can catch the show even if you don't have a cable access provider login. Additionally, there are other sites that will be showing the event, so you can definitely see what all the fuss is about.
According to Vogue, NYTimes.com will also offer a live stream of the wedding, and it's expected that YouTube will as well. After all, the 2011 royal wedding between Prince William and Kate Middleton attracted more than 72 million people to the site, according to Vogue, and actually made the Guinness World Record Book in doing so. So this year, the site will probably do the same and allow anyone with internet access to watch the historic event. After all, it isn't every day that a British prince marries an American actress, well, it would be if life were a Hallmark Channel movie, but sadly, that is not the case (although there will be a Lifetime movie based on Prince Harry and Markle's love story, FYI).
In addition to all these websites, though, for anyone who has cut the cable cord but switched to other streaming platforms such as Hulu Live or Sling, there are even more options.
Of course, there are a lot of ways to watch the royal wedding if you pay for a streaming service. You'll be able to tune into one of the channels that's broadcasting the event live and there are plenty of those. As reported on its website, The Today Show on NBC will "kick off a live show from an exclusive location overlooking Windsor Castle," the day before the wedding, and continue coverage on the day of.
Additionally, ABC, CBS, PBS, and BBC America will all be airing the royal wedding on May 19, according to Cosmopolitan. So whatever channel you prefer, you'll be able to find coverage you like. E! News will also air a special broadcast, and while it's unclear who will be hosting the channel's event, the station has informed watchers that it will be a five-hour broadcast, so the network is sure to cover a lot.
And if you don't want to wake up at 5 a.m. EST to see the event live, recaps and other broadcasts will be on most news channels the night of the wedding or even the morning after. So, if you don't mind playing catch-up, feel free to sleep through your alarm. Because the royal wedding is such a big deal and fascinates people all around the world, there are plenty of ways to watch it.