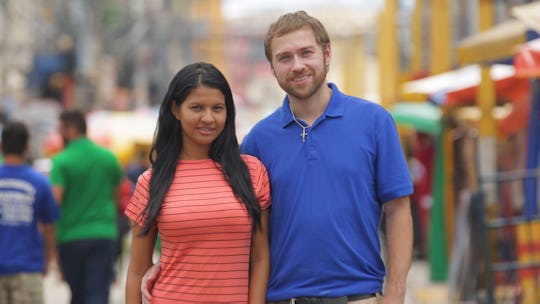 TLC
Paul May Have Revealed Where He & Karine Live After '90 Day Fiancé'
I'm going to be honest: even if I root for couples on Before the 90 Days, I'm not sure they'll all make it. On the last episode, however, Paul and Karine actually did tie the knot. Do Paul and Karine live in Brazil after 90 Day Fiancé? The couple had been living in Brazil prior to the big day.
Judging by Paul Staehle's Facebook, he may currently be in the United States. Just one day after the wedding episode of Before the 90 Days aired, Paul said he started a job as a K9 Handler — in Louisville, Kentucky, his hometown. Just before, he uploaded an album of his and Karine's wedding photos. Looking at Karine Staehle's Facebook doesn't result in much, as she hasn't updated (at least for the public to see) since April. While her Facebook bio says she lives in Brazil, she may not have logged on in some time. Karine did, however, change her last name to Staehle on Facebook. In February, Karine changed her cover photo to one of her and her dad at what looks like her wedding, so the wedding may have happened around then (also interestingly, Karine joined Facebook in February).
While it's not officially confirmed on the show or by a statement, Paul and Karine may now be in the United States. How could Paul start a job in Louisville — a physical job handling dogs, nonetheless — if the two are based in Brazil?
That's not the only hint on Paul's Facebook that they're now in Kentucky. On September 8, Paul reached out for recommendations for a chiropractor in the Louisville area. The same day, he announced that he'll be walking a march for breast cancer awareness with his mother in October. Not only could they be in America, then, but they're staying there longterm; Paul wouldn't announce plans for next month if he was visiting for a short time!
Paul and Karine living in Louisville would make sense, considering this is 90 Day Fiancé and all. The couples that are on the show are usually interested in getting a K-1 visa so a foreign fiancé can enter the country. Once the couple does marry, the foreign citizen can then get a Green Card to remain in the states. Paul and Karine are one of the few couples that were in Season 1 of 90 Day Fiancé: Before the 90 Days, so they have been in the midst of this process for a long time. Their dream may have been for Karine to move to Louisville to be with Paul.
On the last episode of the show, there was some doubt that Paul and Karine would get married. After she tried on wedding dresses, Karine apparently didn't feel too well. Paul said that she was feeling sick, but I (and probably some fellow fans as well) suspected that she was getting cold feet. Up to the moment she was going to walk down the aisle, Karine seemed to have her doubts about marrying Paul.
In the end, though, she eventually came out and the two were married. As soon as the wedding reception occurred, Paul was discussing the visa process on Before the 90 Days. Perhaps he wanted to get it over with because he knew he would end up in America, not Brazil. I don't think anything's certain until the season ends and cameras show viewers where Paul and Karine are now, but Paul's Facebook account may be telling. Seeing as sleuthy fans found Paul and Karine's wedding photo months before the season even began, this information may be right under their noses.