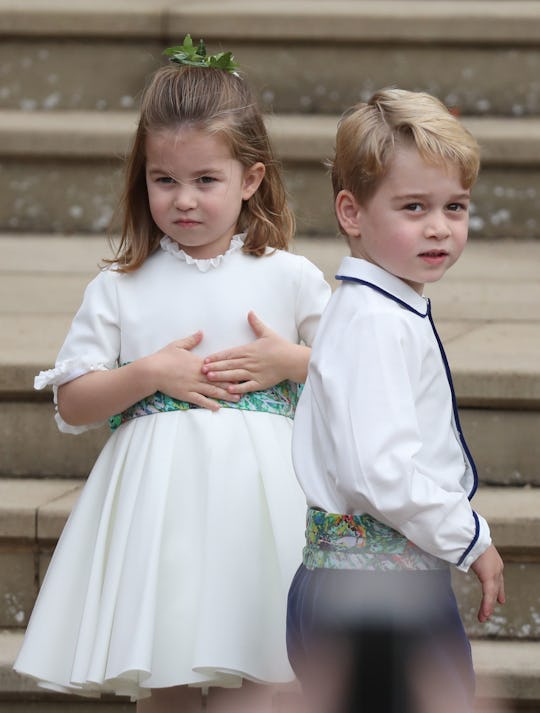 WPA Pool/Getty Images Entertainment/Getty Images
Here's How Prince George & Princess Charlotte *Might* Celebrate Halloween
I might be guilty of being something of an Anglophile. I tend to assume British people are doing everything about 20 percent better than we are, and most of the time I stand by this assertion. They know how to let a television show die a dignified death after just a few seasons, while we tend to drag it out way past its expiry date. Also they have way more castles and a royal family. But I have to admit, we're killing it with Halloween on this side of the pond. I mean, I'm not even sure if we will ever see pictures of Prince George and Princess Charlotte trick-or-treating, or if they even partake in this fun tradition.
The people of Great Britain haven't historically gone in for the same big Halloween celebrations that people tend to enjoy in America. You know what I mean; the Jack-o-Lanterns and costumes and houses decorated to look like they're probably haunted. Which is sort of ironic because the Halloween tradition is actually based in an ancient Celtic pagan festival called Samhain, when the line between the worlds of the living and dead thins.
In recent years, more people in Great Britain are starting to slowly get on board with some of the more popular Halloween traditions, probably because their candy is incredibly delicious. But what of the royal kids? Do they get to take part in a little trick-or-treating?
It seems as though the Duke and Duchess of Cambridge are expected to have a little private Halloween celebration with 5-year-old Prince George and 3-year-old Princess Charlotte, according to OK! magazine. As royal expert Christina Reeves told the publication, while neither Prince William nor Kate Middleton will be likely to celebrate publicly, there's a strong possibility they might enjoy a little private party.
"The royals certainly don't publicly celebrate Halloween, however, Kate's mother, Carole Middleton and sister, Pippa Middleton might well put their party planning skills to good use," Reeves told OK! magazine. "It's likely they will throw a private party for George and Charlotte behind closed doors."
Kate Middleton's mother Carole runs a successful party planning business in the United Kingdom called Party Pieces, which sells everything you might need for a Halloween party or some "fancy dress," which is apparently how the British say costume.
And let's not forget that the young royals have a new American aunt, Meghan Markle, who might bring a little Halloween spirit to the castle. She and Prince Harry definitely celebrate, as we all found out after Prince Harry visited her in Canada in 2016 and the two attended a Halloween costume party on the set of her show Suits, according to People.
If little Prince George and Princess Charlotte are indeed considering trick-or-treating around Kensington Palace, I have a few ideas about what they might dress as based on their preferences. I see Prince George in a police or fireman's costume, or maybe even a dinosaur since he apparently loves all of these things, according to Town & Country. As for Princess Charlotte, her dad Prince William says she loves dancing, according to Hello! Magazine, so maybe a ballerina? Although she is a wild card... maybe she'll go spooky.
Baby Prince Louis might even get the chance to get carted around in a cute costume. Something furry and warm and sweet, I imagine.
However they decide to do it, I just hope the young royals get a chance to do some trick-or-treating. Because it's basically the best thing about childhood.