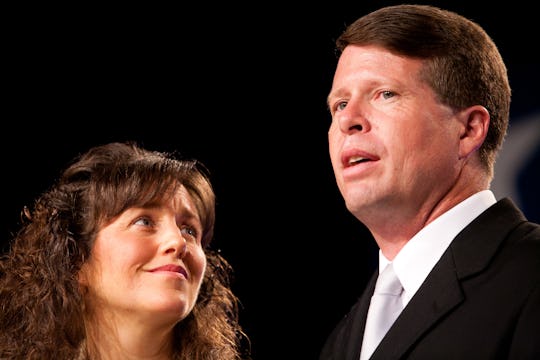 Brendan Hoffman/Getty Images Entertainment/Getty Images
Here's What We Know About The Duggars' Vaccination Views
The Duggar family is perhaps one of the best known fundamentalist Christian families in the country right now. After parents Michelle and Jim Bob Duggar introduced the world to their children on TLC's 19 Kids and Counting, viewers became sort of fascinated by this large, ever-smiling family and their very strict, specific rules about child-rearing and the world in general. As the next generation continues to keep fans enthralled with their plentiful marriages and pregnancies on TLC's Counting On, some of those beliefs have been called into question. Many fans have wondered if the Duggars vaccinate their children, especially considering the fact that vaccination remains such a hot button issue in parenting in the 21st Century. The Duggars did not immediately respond to Romper's request for comment regarding their views.
The Duggars, including the younger Duggars, have been very open about many of their controversial views in the past. In fact, Jessa Duggar Seewald, who is married to Ben Seewald and is now the mother of two young sons (Spurgeon and Henry), once compared abortion to the Holocaust during a visit to the Holocaust Memorial Museum in Washington in 2014. She shared a picture on Instagram and captioned the photo:
I walked through the Holocaust Museum again today... very sobering. Millions of innocents denied the most basic and fundamental of all rights--their right to life. One human destroying the life of another deemed "less than human."
Clearly, the Duggars aren't shy about getting controversial. So how do they feel about vaccinations?
The family has, rather surprisingly, kept their opinions about vaccinations to themselves to date. But sometimes, it seems actions speak louder than words. When the youngest Duggar, 19th child Josie, was born in 2010 three months premature, she wasn't able to come home from the hospital. Twelve of her 18 siblings had contracted chicken pox, presumably because they had not been vaccinated. The highly contagious disease can spread easily and quickly, passing from victim to victim through a cough or sneeze. The state of Arkansas, where the Duggars live, requires that all children receive the chicken pox vaccination before entering kindergarten. The Duggars homeschool their children, so vaccination requirements wouldn't apply to them.
While chicken pox might be a mere (and incredibly itchy) inconvenience for most healthy people, according to the Centers for Disease Control and Prevention it can be dangerous for:
Infants
Adolescents
Adults
Pregnant women
People with weakened immune systems because of illness or medications; for example,People with HIV/AIDS or cancerPatients who have had transplants, andPeople on chemotherapy, immunosuppressive medications, or long-term use of steroids.
Chicken pox can also have some serious complications like:
bacterial infections of the skin and soft tissues in children including Group A streptococcal infections
pneumonia
infection or inflammation of the brain (encephalitis, cerebellar ataxia)
bleeding problems
blood stream infections (sepsis)
dehydration
While Michelle and Jim Bob Duggar don't appear to have vaccinated their children against chicken pox (although they could have vaccinated against other communicable diseases), what about the next generation? Do the Duggar kids vaccinate the grandchildren? Because their numbers are growing at a fairly alarming rate. To date, there are eight Duggar grandchildren, with two more on the way. Joy-Anna and her husband, Austin Forsyth, are expecting their first child while oldest son Josh Duggar and his wife Anna are expecting their fifth child, a boy.
The next generation of Duggars are more social-media savvy, particularly the daughters featured on Counting On, and more careful than their parents might have been. They update their Instagram accounts with smiling pictures of their cherubic children, smiling pictures of themselves kissing their spouses since they can finally kiss them without impunity; just loads of sunshine and happiness for public consumption. But what about all that might be going on behind the scenes? What if they're not vaccinating their children?
Perhaps that's something they would like to address the next time they're on Instagram.