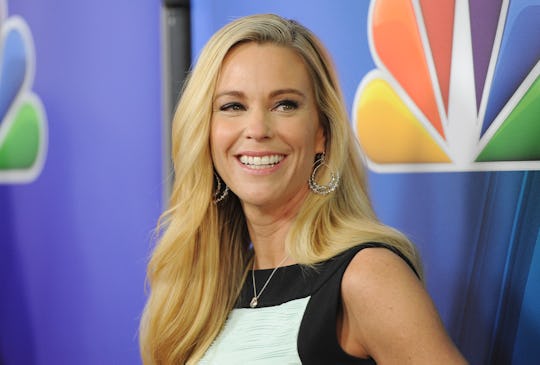 Angela Weiss/Getty Images Entertainment/Getty Images
Do The Gosselin Kids Go To The Same School? It's Definitely Complicated
I totally remember watching Jon & Kate Plus 8 more than a decade ago. I had four sons of my own at the time and got a whole lot of morbid satisfaction out of watching parents who were actually busier than I was with more kids. It really put my life in perspective. Jon and Kate Gosselin, who have since gone through a seriously acrimonious divorce, were trying to raise their twin daughters Mady and Cara and their sextuplets together. Now those kids are looking pretty grown up... but they dynamics have changed. If you're wondering if the Gosselin kids go to the same school, the answer is a little complicated. Because that seems to be the way of things with the Gosselins these days.
Kate Gosselin posted a pretty typical looking picture of her kids in August for their first day back to school. In the picture were 17-year-old twins Mady and Cara, as well as four of the six 14 years olds in the family, Aaden, Alexis, Leah and Joel. Gosselin captioned the pic; "This was yesterday! Feels like school never ended...and they're already back! #SeniorYear 😳😳 #EightGrade #ProudMom ❤️" It's a pretty big milestone for the kids and their mom, of course. But the only issue is two of the kids aren't in the picture.
Two of the sextuplets aren't pictured here in front of the family home in Wernersville, Penn; Collin or Hannah. Sadly, Collin has not been living with his family since 2016, when his mother made the decision to move him to a specialized program that would help teach him "life skills," as the reality star told People at the time, to deal with his "educational and social challenges:"
There's a fairly fluid diagnosis of what those needs are, but he needs to learn certain strategies to help him deal with things. This has been a struggle we've had for a very long time, and it's one I've dealt with on my own. I've felt very alone in this.
According to E! Online, Kate further explained the difficult decision to move Collin away from home on Good Morning America:
It was not even really a choice. It was on the advice of his doctors and it had to happen. He's plodding along. We are, too. It was necessary. And I'll go to the ends of the earth for the best for each one of them. This is the best thing to do for him right now, and so that comforts me.
While Collin's location remains unknown to the general public (as it should be, obviously), Jon Gosselin recently shared a picture of his son and his daughter Hannah visiting Collin on his birthday in May. He captioned the picture:
Glad I could celebrate my son Collin's 14th birthday with him and his sister!
As for Hannah, it seems as though she is living with her dad these days in Lancastar, Penn, despite the fact that her mother was awarded full custody of all eight children after the Gosselins divorced in 2009. Jon shared a picture of Hannah on her first day of school, where he noted in the caption that Hannah has essentially started over this past summer:
Congrats Hannah on your first day of school, proud of you. I admire your bravery starting fresh!!! I Love you very much and we have worked really hard to get here.
Whatever the story might be behind the strife in the Gosselin family, one thing is for sure; their kids are growing up. They're starting to make their own decisions and live their own lives, independently from their parents. And after living almost all of their lives in the spotlight, I actually think that's a pretty great thing.