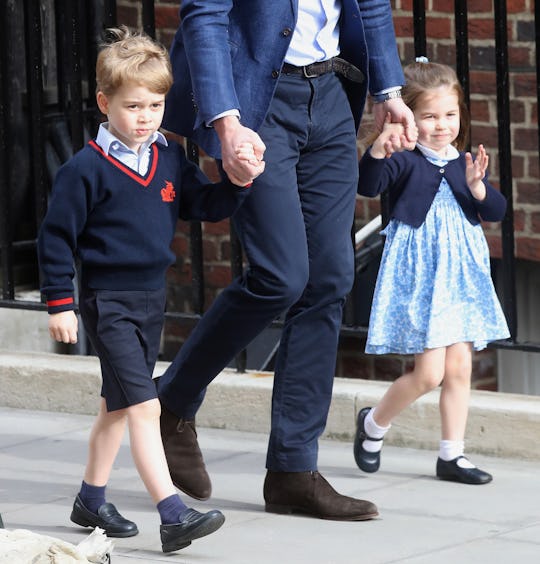 Chris Jackson/Getty Images Entertainment/Getty Images
Here's How 'Summer Break' Works For Prince George & Princess Charlotte
Everyone needs a break, even little children who are growing up in the lap of luxury. Perhaps even especially little children growing up in the lap of luxury, if they happen to be part of the royal family. After all, they spend a decent amount of time in the public eye, being adored by us lesser mortals but also getting a million pictures taken of them every time they peek their little faces out the door. Now that it's getting warm out finally, I've started to wonder whether or not the royal kids have summer break, and what that break might actually look like for them. I'm guessing it's not all s'mores and black flies like summer here in Canada.
The Duke and Duchess of Cambridge send both of their older two children to nursery school; 4-year-old Prince George is a pupil at Thomas Battersea in London while his 3-year-old sister Princess Charlotte attends Willcocks Nursery School, according to Business Insider. Little brother Prince Louis is off the hook and doesn't have to go to school because he's just over 1 month old. While the older two royal children are at school, they're working away at learning good manners, kindness, and social skills. But do they get a break from all that school learning?
The lucky kids don't just get regular summer break, they actually get a week off right now. The summer half-term break in the United Kingdom starts on May 28 and ends on June 1, according to School Holidays Europe. The kids go back to school until July 16, and then are on holiday for the summer until Sept. 5, as School Holidays Europe noted, so there's plenty of time off from school for the little royals. Time spent bonding with their baby brother, hopefully.
Other than giving their baby brother some extra love, what can a couple of wild and crazy royal kids do on their summer holiday? Well, this week it looks as though the Duchess of Cambridge has taken the children to the family's country home in Norfolk – Anmer Hall. According to a report from Hello! Magazine, Kate Middleton was seen at the nearby Houghton Horse Trials with Prince George and Princess Charlotte in tow over the weekend. This was probably especially exciting for Prince George, who has reportedly started to take horseback riding lessons, according to the Daily Mail.
Unlike the summer holidays I personally remember, in cottages on the lake with walls so threadbare I could see the sunset from my bed, Anmer Hall appears to be another experience entirely. The house has 10 bedrooms and is situated on the queen's Sandringham Estate, according to The Week. I bet they even have indoor plumbing.
While the family enjoys a little holiday for the week, when summer break kicks off for real in July, things get serious. Back in 2016, the Duke and Duchess of Cambridge took their children via private jet to the south of France and stayed at the 16th-century Chateau La Rocque in the village of Pouydraguin, according to People. They also visited Balmoral, the queen's estate in Scotland, a journey most members of the British monarchy take to visit as the queen stays on site until October of each year, according to People.
While the family hasn't released their plans for this summer holiday, I feel fairly confident in saying they'll be amazing. Because sure, the kids might have to get their pictures taken a whole bunch of times and I bet it's a real pain... but royalty certainly does have its perks. Like private jets and estates and horses for their summer breaks. Not such a bad trade-off, I guess.