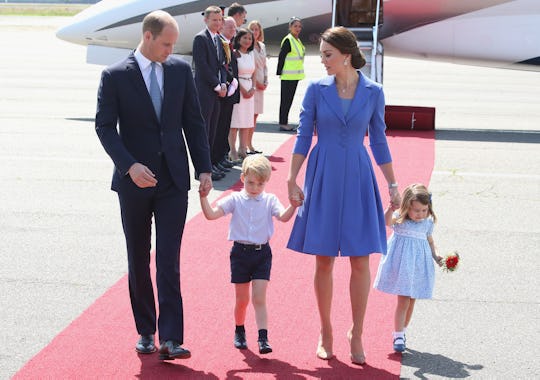 Chris Jackson/Getty Images Entertainment/Getty Images
Do The Royal Kids Play Sports? Their Parents Are Excited For Them To Start
This summer sounds like it's treating Prince George and Princess Charlotte pretty well. The two older children of the Duke and Duchess of Cambridge reportedly kicked off the holidays with a family trip to the island Mustique in the Caribbean. And now it looks as though their super busy parents are taking some time off for the month of August to hang out with their kids. But here's the real question; what do George and Charlotte like to do for fun? Do the royal kids play sports, or will their parents have to find some other way to keep them entertained this summer?
According to Elle, Kate Middleton and Prince William have taken the month of August off to spend time with 5-year-old George, 3-year-old Charlotte, and new baby Louis at Anmer Hall, their family home in Norfolk outside London. The family is also expected to travel to Scotland, where Queen Elizabeth is spending her well-deserved vacation time at Balmoral Castle. All of this traveling around doesn't leave a whole lot of time for the kids to have soccer practice or engage in any other group sports that most kids tend to do in the summer. But that doesn't necessarily mean they don't play any sports at all.
Both Prince William and Kate Middleton have long been fans of tennis, and it seems they both hope their kids get into the sport in a very real way. During a recent Wimbledon event, Prince William was talking to tennis player Novak Djokovi about his kids. When Djokovi asked the Duke and Duchess of Cambridge how their children were these days, William responded:
Very well, thanks. Trying to get a tennis racket in their hand. And a football.
As for Kate Middleton, in 2017 she was visiting a Lawn Tennis Association event where she played tennis with kids and chatted with coaches. According to Hello, she spoke to tennis coach Sam Richardson and asked for his advice about how to get her then 4-year-old son George to do more than "just whack the ball" while she was teaching him how to play tennis. Richardson told the news outlet:
She says with George just being four he wants to whack a ball, so she was asking what sort of stuff should she be doing. They will struggle at that age to hit a ball. She said he's interested in it, but more in whacking the ball.
Apparently it wasn't just Richardson she was asking for advice; the tennis coach told Hello that Middleton had been asking Judy Murray for tips as well. Murray is the mother of Wimbledon champion Andy Murray:
She said she spoke to Judy Murray and she suggested taking away the racket and do more of the basic stuff, which is absolutely right. But four-year-old boys want to swing the racket around.
Beyond tennis, Prince George is also reportedly learning one of the most royal sports of them all; horseback riding. According to The Daily Mail, he started learning to ride on a Shetland pony owned by royal cousin (and Olympic equestrian) Zara Tindall when he was just four. Considering his great-grandmother is still riding at the age of 92, it's clearly a sport the family takes seriously.
As for Princess Charlotte, her mother told Olympic equestrian Natasha Baker that her daughter is already a fan of horseback riding, inspired in part by the Olympics. And Prince George also has a pretty regal sporting interest as well; fencing, according to Vanity Fair:
George really enjoyed the fencing and Charlotte really enjoyed her riding... and maybe she will be here in a few years time.
In reality, both Prince George and Princess Charlotte are pretty small to be getting too invested in sports. But when they do, I think it's safe to say their super sporty parents will jump on board immediately.