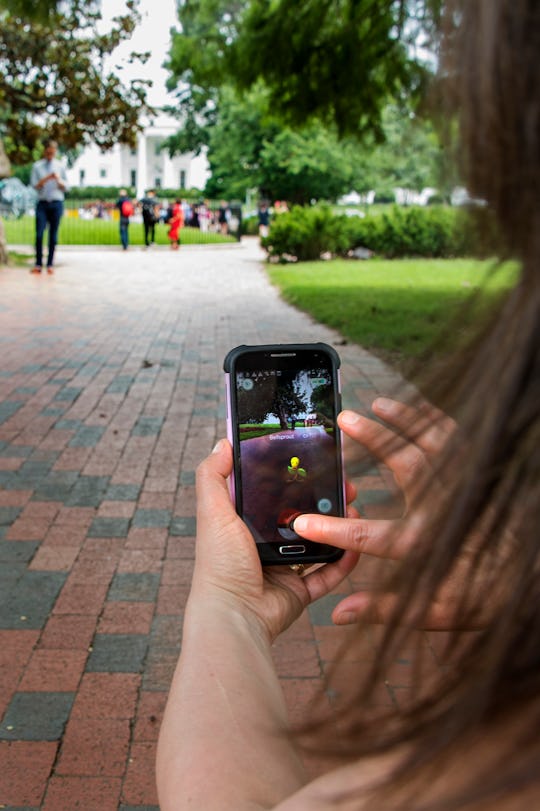 JIM WATSON/AFP/Getty Images
Do You Have To Go Outside To Play Pokemon Go? The Game Is Halting Binge-Watch Sessions
So my sons are totally obsessed with Pokemon Go. This makes them in no way unique, of course. The new, free app from Nintendo based on the cultish classic cartoon/video game/childhood obsession from the '90s has become a surprising phenomenon with kids and adults alike. The popularity of Pokemon cannot be underestimated, clearly. Despite being a 20-year-old franchise, it's standing the test of time. But what exactly is the appeal of the new app? Well, there is one element that has some parents (like me) excited. If you're wondering if you have to go outside to play Pokemon Go, the answer is a resounding yes. (Your binge watch session can wait.)
In many ways, the Pokemon Go app is eerily similar to the popular Fitbit (where users can track their steps to hit that ever elusive minimum of 10,000 steps a day). The difference is, the Pokemon Go app for Android and iOS does not come with a side dish of resentment and guilt. Because it is truly a good time. It's not a difficult game to follow along, which means you aren't going to be straining your brain too hard. Essentially, users track Pokemon hiding within their local flora and fauna with their phone's GPS, and, once they've found the erstwhile little Pocket Monsters they have to catch them with their phone. Which means you've got to get outdoors if you want to find the little critters — they will not be coming to you. And as most of us remember from the Pokémon theme song, the goal is "Gotta catch 'em all. Pokémon!"
For those users who want to play along from the comfort of their couch, I have bad news: you might be out of luck. The concept of getting people outside to look for little pocket monsters actually stems back to the creation of the original video game from 1990 created by Satoshi Tajiri. Apparently, Tajiri loved to try to find insects and was worried that kids weren't able to get outdoors hunting for bugs because of urban sprawl. Tajiri told TIME in 1999;
Places to catch insects are rare because of urbanization. Kids play inside their homes now, and a lot had forgotten about catching insects. So had I. When I was making games, something clicked and I decided to make a game with that concept.
So what do users think of being encouraged to go outside and walk around looking for Pokemon to catch in this unique augmented reality game? For some '90s kids, it's a Pokemon fantasy come true. Not only are they outdoors, but they're engaging with other Pokemon fans, competing at Pokemon gyms (places to battle other "trainers" with your collection of Pokemon), and, in some cases, learning to deal with social anxiety issues.
While there might eventually be serious concerns about Pokemon Go for some (data usage, being careless with surroundings, stranger danger), right now let's celebrate an app that has so brilliantly forced us all outside. Because if you don't get out there, you will simply never catch a Squirtle.