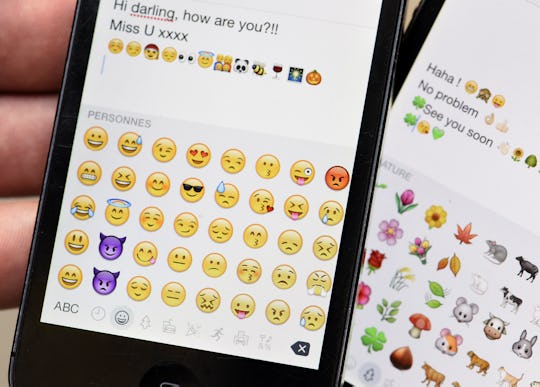 MIGUEL MEDINA/AFP/Getty Images
Do You Need To Update Your Phone To Get The New Emojis?
New emojis are the best, and just in time for the holidays, there's a whole new set of them. But you need to update your phone to get the new emojis. And trust me, there are plenty of them to get excited about.
If yours updates automatically, the new emojis should already be on your phone, but if Apple users haven't downloaded the iOS 10 update, you won't be able to send the emojis to Android users, who have them as well. And you are going to want to send these: The new emoji update includes a teacher, scientist and firefighter, and a pregnant woman. There's a smiley face with a Pinocchio nose, a really freaky clown, and a shrug emoji. So now you can really say, "IDK."
But wait! There's more! There's also a prawn and a scotch glass and a peanut — and of course, the long-awaited avocado. (Yes, long-awaited. Don't deny it.) There are wrestlers and a face palm, too. And let's not even get into the different animal choices, which include a fox, a gorilla (not Harambe), and a perfectly adorable looking duck. There's even a "female technologist" who's sitting being a computer all day, which is basically what I look like in case you were wondering. Basically? So. Many. Possibilities.
Already excited about the many different combinations of face-palms and avocado toasts you can now send your friends, to meet up for lunch after a hard night of partying? You're going to want to make sure you start the software update on your phone so you can actually send them to other people, and to make sure they're showing up on the mobile versions of Facebook and Twitter (the desktop versions of the social networks already have them).
Not feeling the whole "update your phone" part? How are you going to "cheers" people on New Year's Eve without the clinking champagne glasses? Or ask your significant other to bring you breakfast in bed with a stack of pancakes — complete with melty butter and syrup? (Mmm, pancakes.)
It is actually a genius way to make sure that people update their operating system instead of just hitting "remind me later" for ages. No one wants to miss out on the black heart or the cowboy hat wearing smiley face, or accidentally send people those little boxes with question marks in them. No one wants that.
There are other perks to upgrading your phone's iOS if new emojis aren't enough, like patches for certain bugs and some other mini fixes. Of course, the emojis are the most important part. And even if Harambe—er, the gorilla emoji doesn't exactly suit your fancy, perhaps the bacon emoji and the flaky golden croissant emoji will change your mind.