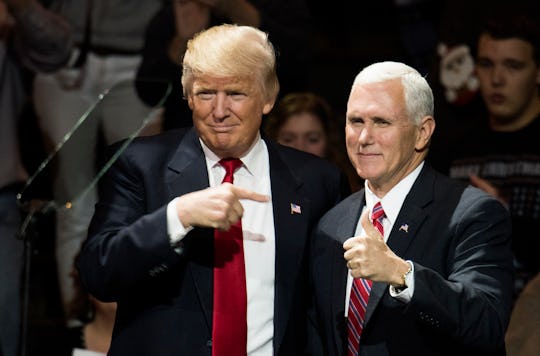 Ty Wright/Getty Images News/Getty Images
Does A President Get Days Off? Trump Wants To Get Time In At Mar-a-Lago
President-elect Donald Trump looks to be in a rather unique predicament these days; after all, how many presidents have looked at living in the White House as rather a step down in the real estate department? I feel like most people would see living at the White House as an honor, but Trump might be more like, "Meh, I could do better." If Trump gets days off as president, he reportedly would prefer to spend all of that sweet down time at his Mar-a-Lago estate in Palm Beach or at Trump Tower in New York City. That is, if presidents even get days off.
Former First Lady Nancy Reagan once said in defense of President Ronald Reagan's vacations, "Presidents don't get vacations — they just get a change of scenery." While Trump might be able to spend time at his Mar-a-Lago estate or his Trump Tower fortress, he won't exactly be getting days off. A sitting president is expected to essentially travel with a full White House contingent of approximately 200 staff members including Secret Service, military advisors, and White House aides, so the president can continue to run the country from anywhere. If Trump is away from the White House, he won't be sitting by the pool at Mar-a-Lago enjoying a cocktail or reading a juicy novel or anything. As president, he will continue to receive daily intelligence and national security briefings, hold news conferences with the media he so loves, and even attend political fundraisers.
While Trump has said that he doesn't plan to take any "long vacations" while sitting as president, he will naturally be allowed to take some form of vacation during his four-year term. President Obama took vacation days (and received a whole lot of negative feedback from Republicans in the process), as did former President George W. Bush before him. In fact, Bush took the most vacation days of any president ever; in his eight years as president he took 879 days of vacation. Luckily for Trump, if he needs to get away from it all he basically has a few palaces at his disposal.
Actually, in some ways (and I sort of can't believe I'm saying this), Trump's enormous wealth could be a good thing for the American people and their wallets. Trump has famously said that he won't be taking the presidential yearly salary of $400,000; while he is not allowed to officially refuse the salary, he will take $1 a year instead.
Also, maybe he'll feed the White House staff some delicious taco bowls at Trump Tower to save taxpayers a hefty grocery bill. That would be nice, right?