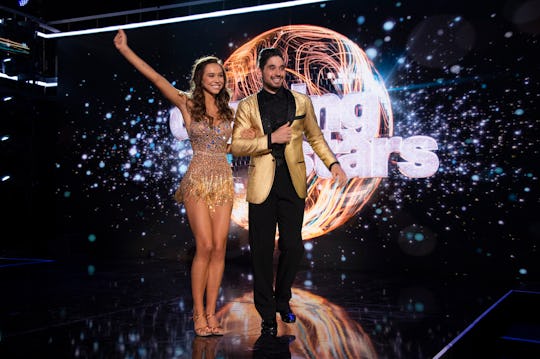 Eric McCandless/ABC
Alexis Ren Has Some Dance Experience Outside Of 'DWTS'
Every new batch of contestants on Dancing With the Stars is a mixed bag, dancing-skill-wise. Some stars have so little sense of rhythm they seem to slide by on charm alone. Others you could swear had been secretly training for this show their whole lives. Now, after Alexis Ren's fantastic scores and suspicious grace on the season premiere, fans are wondering, if Alexis Ren has dance experience. The DWTS contestant might have a leg up on the competition, but the season could still be a challenge for her. With pro partner Alan Bersten, she scored an impressive 21 out of 30 on night one. She didn't get enough votes to keep her out of jeopardy on Tuesday, but the judges clearly appreciated her skills. And, as it turns out, the professional model does have experience in professional dancing.
In March, Sports Illustrated reported that Alexis is actually a classically trained ballerina. She was preparing to audition for a ballet company before she became a professional model and the latter career took off. In fact, her photo shoot with Sports Illustrated was inspired by ballet. It's still obviously a big part of her life, and it's left some DWTS fans questioning whether her previous dance experience is fair, given the nature of the show.
The whole point of DWTS is to see non-dancers learn (or attempt to learn) to dance. Some fans feel that if Alexis already has professional dance experience, she has a big advantage over the other contestants. Although Alexis does have dance training prior to DWTS, it's not a big secret. In her intro video package, she even addressed her experience as a dancer. "I was a ballet dancer for 10 years," she admitted. But she assured fans that it won't have an impact on her success on DWTS. "You think it would be something that would help, but ballroom and the other dances are so different, with a different technique."
Very rarely are ballet moves incorporated into the different dance routines on DWTS. So I don't see how knowing the logistics of ballet could help Alexis master the cha-cha, for example. The fact that she has trained as a dancer before might bode well for her in terms of discipline, but DWTS is very different from ballet.
But Alexis isn't breaking the rules or even bending them as a contestant with prior dance experience. For example, Jennifer Grey, most famous for Dirty Dancing, competed and won Season 11 — and I'd say she had some pretty extensive pre-show dance experience. More recently, Glee's Heather Morris competed on DWTS Season 24. Not only did she already have dance experience, but she'd also been a choreographer prior to going on the show. Despite her experience, she told E! News at the time, "I'm nervous about the live audience… I'm just not totally used to it." And she ended up being eliminated during week six.
Just having dance experience as a contestant on DWTS doesn't guarantee the Mirrorball trophy or even a place in the top three. More than anything, Alexis is a model and an Instagram influencer. She may have a leg up as a trained dancer, but there are no weekly challenges that include performing the grand jeté ballet move. So we'll just have to see how she does.