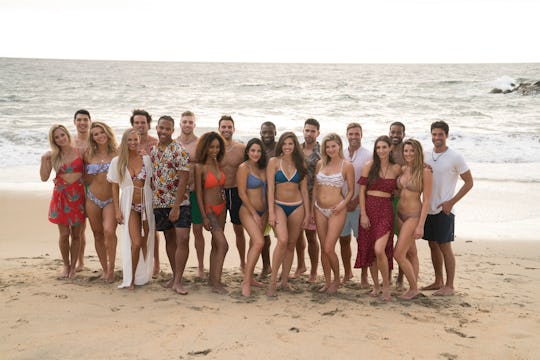 Paul Hebert/ABC
There Could Be An Engagement This Season On 'Bachelor In Paradise'
Going on Bachelor in Paradise is all about falling in love and (hopefully) meeting the love of your life. And in some rare cases, that actually happens for contestants. As with every year, viewers are probably already wondering if anyone gets engaged on Bachelor in Paradise this season. The season is finished with filming, so whatever couples formed on the show are already out in the real world. Due to what I assume are some strict contractual agreements, though, I would venture to guess that none of these couples can come right out and announce any engagements.
Even so, there's likely at least one engagement that came from the cast this season. Jordan, for example, already admitted that he found someone this season when speaking with the Citrus County Chronicle in his hometown in Florida. "I do find someone for me in Paradise," he revealed. "It ends on a very good note."
He also said that this season, fans will see another more positive side of him. I'm not sure if that means he left the show as an engaged man or if the season ended on a good note for other reasons, but it's certainly a possibility.
Right now, there are just a few couples, or would-be couples, on the show. Tia and Colton seem to have slid right back into the relationship they kind of sort of started months ago. And Grocery Store Joe and Kendall had the first Bachelor in Paradise kiss this season, which could be an indicator of good things to come. Honestly, right now, the only couple I can see engaged is Tia and Colton, but things could change as the season progresses. Since Tia and Colton have a relationship that began long before Bachelor in Paradise this season, I think they definitely stand a better overall chance of making it. They have a leg up on all of the other couples, as they have a head start as a couple, but anything can happen in Paradise.
Of the contestants who didn't make immediate connections on night one, there are some who seem ready for engagements. Like Chelsea, from Arie Luyendyk Jr.'s season of The Bachelor, and Kenny from Rachel Lindsay's season of The Bachelorette. Of course the mature contestants also need to find their counterparts to make an engagement happen, so only time will tell as the season progresses.
There are also a few choice contestants who I definitely don't see leaving Paradise with a ring on it. Or, having put a ring on it, if you will. Nick from Becca Kufrin's season of The Bachelorette seemed to be working on getting closer to Chelsea on the season premiere, but she wasn't really having any of it. Maybe because he seemed so intent on explaining to her his self-described weird attraction to her? If he continues with a similar method when it comes to other women this season, I don't know if I see him leaving with a fiancée.
Don't get me wrong — there's definitely hope that some contestants get engaged on Bachelor in Paradise this season. But even if that's the goal for some of them, it would also be acceptable to leave the resort with a boyfriend or girlfriend. I get it that the goal is to get engaged and leave the show with the promise of a happily ever after, but some of the contestants might be happy with a significant other period. Overall, I'd say that at least one couple gets engaged this season, but I also wouldn't count out a finale special proposal. Since, you know, that's a thing now.