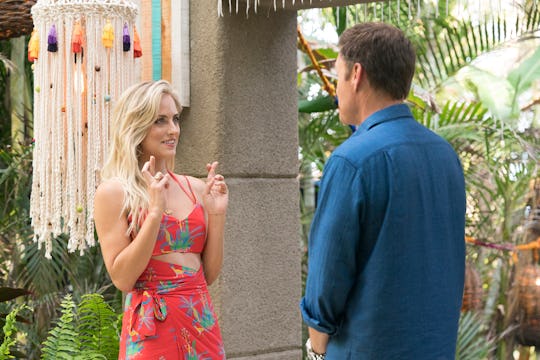 Paul Hebert/ABC
Joe & Kendall Might Be The First 'Bachelor In Paradise' Couple Of The Season
Every season of Bachelor in Paradise has those few couples who seem like they'll make it right from the start. I don't know just yet if they're meant to last but Grocery Store Joe and Kendall had the first kiss on Bachelor in Paradise this season and Twitter loved it. When Joe arrived, Kendall was immediately interested in him, but was forced to take a back seat to Krystal's advances on Joe and vice versa.
But despite what seemed like a connection there, they didn't get further than a daybed conversation. Instead, Joe and Kendall shared a kiss, which was the first kiss of the season. And immediately, Twitter was ready to ship them as this season's golden couple. Which I can't really blame them for, since Kendall and Joe are basically Bachelor Nation's sweethearts.
Kendall and Joe were both from the most recent seasons of The Bachelor and The Bachelorette, respectively. This makes them relatively new to Bachelor Nation as a whole, but it also means that neither are really jaded by the process. Or, excuse me, the "journey." That's part of the charm that they both have and together, they make a totally down-to-earth couple that Bachelor in Paradise fans are ready to see as endgame.
After Becca sent Joe home on night one of The Bachelorette this season, I'd honestly be happy to see him find love with anyone at this point. But if it's Kendall, then that's even better. Ok, so it might not be love yet, but that kiss was full of chemistry and it's just the beginning of the season.
Of all the potential couples who could have had the first kiss of Bachelor in Paradise Season 5, it was kind of surprising that it was the least threatening of them all. But it was also a little refreshing, especially since neither Kendall or Joe would ever hurt a fly.
It may be way too soon to tell if Kendall and Joe will make it to the end of the season together, but it's definitely not too soon to love them as a potential coupling.
Going into Bachelor in Paradise, Joe seemed intent on making up for lost time. As in, the time he lost by being sent home on The Bachelorette before he and Becca could even get to know each other. He did make the rounds to talk to a few different women, but Kendall seemed to be where his interest stayed, which is likely why they shared the first kiss of the season. And you don't just kiss for fun on Bachelor in Paradise, no matter how lax the environment may be.
Ahead of Season 5 of Bachelor in Paradise, viewers saw a little bit of Joe and Kendall's relationship in the promo. In fact, it showed Leo coming between them, though it's not clear if Joe and Kendall come back from whatever drama happens there. For right now, however, fans are all about Kendall and Joe and that very memorable kiss they shared on the first night.
Joe may not have made it past the first night on Becca's season of The Bachelorette, but he was quick to make some major waves in Paradise (no pun intended) with Kendall. If it's any indication of what's to come this season, then it's exactly what viewers need.
Already, there's been drama between Chris, Jordan, and Colton. So if Kendall and Joe's kiss was the beginning of something real and pure in the middle of all that, then I am here for it. And apparently, so are plenty of Bachelor in Paradise fans.