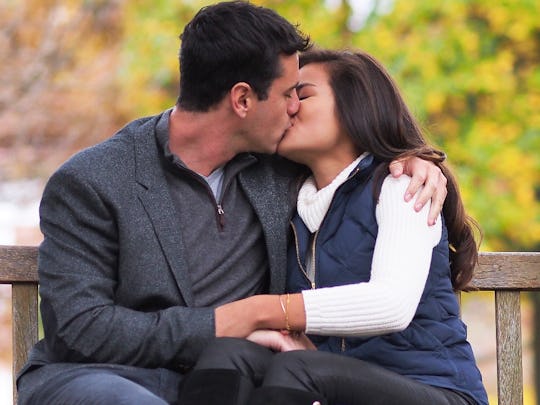 ABC/Scott Evans
Does Ben Have Sex With Caila In The Fantasy Suite? All Signs Point To A Resounding "Yes"
Bachelor Ben Higgins... he loves pizza. He is a devout Christian, so he really loves God. He also loves looking like a super nice guy. Even when he's breaking the heart of, say a young single mother right after spending the day with her adorable kids. Ben still wants to look like the nice guy. A nice guy who is ready to knock boots with one ultra hot babe, that is. So here is what we're all wondering — with the "fantasy suite" episode fast approaching: Does Ben have sex with Caila?
It's no secret Ben and Caila have a very physical connection. From early on, the two gorgeous singletons had some serious chemistry. Caila, a 24 year old software sales rep from Hudson, OH, was hesitant initially to truly open up with Ben. No word on why, though if pushed I would hazard a guess that the 24 other woman vying for Ben's love might have put a smidge of a damper on things. But Ben managed to bust through with his earnest gazes and talk of trust, so they were able to move on to being sexy and hot for each other. So will that sexy, hot vibe translate to a night in the fantasy suite for Caila?
Well if the pundits (AKA social media) know anything, the accepted wisdom seems to be that yes, Ben will be partaking of a little Caila.
In fact, some even think that's why he kept her around instead of poor single mom Amanda.
Et tu, Ben? Mr. Devout Christian? Mr. Innocent Face and Plaid Shirts and Weeping Openly On National Television? Are you really stringing Caila along so you can do the nasty?
And if you think that's bad, there's more. Word from Bachelor gossip site Reality Steve is that on episode eight, airing Feb. 29th on ABC, Ben will actually be hooking up with all of the final three. So JoJo, Lauren B. and Caila.
And here is Caila, browbeaten in to opening up her heart to Ben and his wolf-in-sheep's clothing act. She was feeling all the feels, looking dewy and in love. And dude just comes along and is all, "Hey baby, want to have some individual suite with me?"
I hope everyone is wrong. Not about Ben, I'm done trusting Ben after he hung out with Amanda and her adorable daughters for the day and then sent her packing. No, I hope Caila tells him what's what.
I hope this other theory is true too: There are whispers that the producers wanted to keep Caila in the final three so she could be the next (and first ethnically diverse) Bachelorette!
Let's all hold out hope for Caila. And give Ben a collective tsk-tsk.