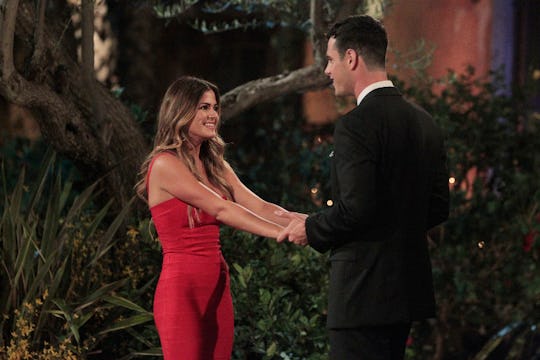 ABC/Rick Rowell
Does Ben Have Sex With JoJo In The Fantasy Suite? 'The Bachelor' Is About To Get A Whole Lot Steamier
Bachelor Mondays are about to get a whole lot more interesting. After a stressful week of hometown visits (in which adorable mom of two Amanda was sent packing, much to everyone's chagrin), the reality show's field of hopeful contestants was whittled down to just three remaining ladies. According to next week's previews, bachelor Ben, Lauren B., Caila, and JoJo will all hop a jet down to Jamaica, where more than just fresh coconut and sunny beaches await. With odds-favorite latter contestant still predicted to make the final two and the steamy fantasy suite episode around the corner, does Ben have sex with JoJo and settle everyone's bets, or will he leave her hanging and pursue the other two?
This is The Bachelor, who am I kidding. If sneak peek clips of Monday's impending fantasy suite episode (and, you know, history) are any indication, the answer to that is a resounding "yes."
"I don't ever want this to end," JoJo tells Ben in the ABC sneak peek, pouring her heart out over a candlelit dinner. "And I do love you."
Uh... sorry, JoJo, but you might want to pull up on the reins a bit. In the scene directly following that preview, cameramen capture Ben and Lauren B. splashing around in the ocean and making all sorts of moves on one another. Whoops.
Oh, but never fear. That doesn't mean he won't be taking you to the fantasy suite, JoJo. In fact, according to Bachelor gossip king Reality Steve, Ben takes all three girls to the suite (not at the same time, because come on, this is primetime television, people), and not everyone is happy about it.
"Chris [...said that] the 27-year-old love searcher (Ben) is 'not gentleman enough'," Buddy TV claimed in a grapevine report this week. "But [he] added that 'a gentleman can still be a generous lover.'" No word out of Harrison's camp as to whether that statement is true or not, but if it is, the Bachelor host might have a point.
During last week's hometown visits, Ben was scolded by JoJo's brothers for "brainwashing" the women into believing they each had just as much of a chance at Ben's heart as the next contestant, and this latest move may be further proof of that. Worse, Ben spent plenty of time early on encouraging JoJo in particular to open up to him and be more vulnerable — which from the current gossip seems to have finally happened. But was it all for the best, or did Ben start something that he can't finish?
Only time will tell whether all of the heartache on JoJo's end was worth it. For now, the only thing left to do is stock up on popcorn and hope Ben's fantasy suite invitation isn't the end of the road.