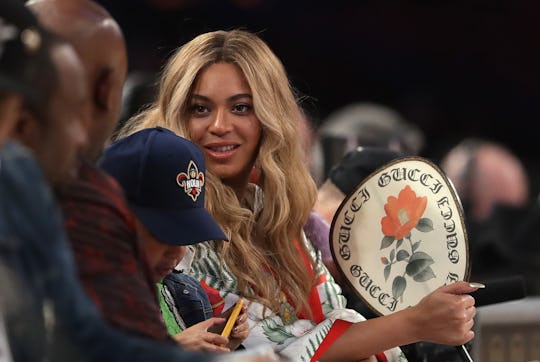 Ronald Martinez/Getty Images Sport/Getty Images
Hold Up — Does Queen Bey Have A Secret Snapchat?
I'm starting to wonder if Beyoncé owns the entire internet — lately, it's like we can't seem to get away from her. Not that anyone is trying, obviously... quite the opposite, in fact. We can't get enough. That's why fans are panicking over the idea that Beyoncé might have a secret Snapchat. We want in, guys. We want all in.
Queen Bey was getting all adorable and mumsie with her girl Blue Ivy at last weekend's NBA All-Star game, according to her most recent Instagram post. After blessing us all with the news that she and Jay Z are expecting twins on Feb. 1 with a gorgeous Instagram shot that broke the internet (with over 10 million likes, it's the most "liked" picture ever to hit Instagram), Bey has been giving us the social media silent treatment for three weeks. We've been fine, we've been totally fine. Until now, when she decided to share a sweet pic of her and Blue Ivy using a Snapchat filter to look like beautiful deer. On Instagram. On the same day we find out Beyoncé won't be performing at Coachella in April under doctor's orders. It's all too much for us. A person can only handle so much.
Of course, now that fans think she has a secret Snapchat account (because she would have to in order to use the filter, right?) they want access to it, like, yesterday.
Of course, if Bey doesn't want us to know, chances are we aren't going to find out. I mean, her mother, Tina Knowles, kind of let the cat out of the bag in August when she posted a video Bey sent her on Snapchat, using the Snapchat filters, and then was all, What? No she doesn't have Snapchat.
So why did Beyoncé choose Thursday to break her Instagram silence? Why is she seemingly encouraging us all to get back on the hunt for her secret Snapchat account? Maybe it's all a way to distract us from the fact that she had to drop out of Coachella. Bey dropped the news in a joint statement through her Parkwood Entertainment and Coachella organizer Goldenvoice on Thursday, saying:
Following the advice of her doctors to keep a less rigorous schedule in the coming months, Beyoncé has made the decision to forgo performing at the 2017 Coachella Valley Music & Arts Festival. However, Goldenvoice and Parkwood are pleased to confirm that she will be a headliner at the 2018 festival. Thank you for your understanding.
Despite the news that she would be headlining Coachella in 2018, fans took her absence (though warranted) hard. But now I know a way she can help people get over their disappointment... Snapchat, Bey. Snapchat.