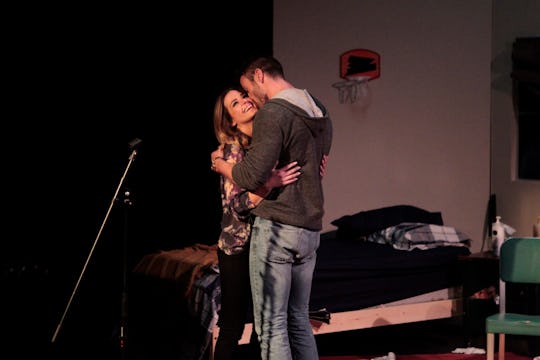 ABC/Rick Rowell
Does Chad Come Back On 'The Bachelorette' Despite Being Sent Home? It Sure Seems That Way
He's gone... or is he? During Tuesday night's special episode of The Bachelorette, it seemed like Chad was sent home after not receiving a rose during his two-on-one date with Jo Jo and Alex. But previews for the next episode show an angry Chad showing up at the door of the contestants' temporary Pennsylvania home. So does Chad come back on The Bachelorette despite being sent home? The previews sure make it seem that way.
In Tuesday night's episode, all of Chad's past antics came back to bite him in the butt. The villain of the season had an altercation with an array of contestants that night, including low-key competitors like Derek and Wells. (Seriously, you have to be a Grade A *sshole to go after Wells.) Then, prior to leaving for his two-on-one date, the luxury real estate agent went off on Jordan, going as far as threatening to find him when they got out of the house and beat him.
The attack was enough for Alex to execute his "Get Chad Eliminated" plan (which, let's be honest, he'd been planning since learning about their two-on-one date, if not before). After going off to a secluded area, Alex told JoJo everything that had happened in the house that morning.
But JoJo's not an idiot, and she knows to take everything that's said with a grain of salt. Because, hi, she's been on that side of the competition. She decided to confront Chad about the incident, and his defenses went up. Rather than calmly explain his side of the story (not that there really is one), he skirted around the questions and grew a little hostile towards JoJo. The bachelorette saw this for what it was and decided to give the rose to Alex, forcing Chad to head home.
But clearly Chad was confused on which home he was supposed to go to. (That, or producers led him astray. Remember, they took a helicopter to get to the woods.) At first, it looked as if Chad was showing up to the chalet where JoJo and Alex had gone. But, in the previews, it seems Chad had returned to the contestants' house. Much like Jason Voorhees return to Camp Crystal Lake, Chad's return seems to send shivers down his housemates spine and a shockwave through Bachelor Nation.
What's most confusing about Chad's return is that his stuff seemed to have been removed form the house. A show staff member showed up to take away his suitcase, causing the other contestants to pop bottles and toss confetti. So if he doesn't have anything to pick up, why is he there? Fans had some opinions on the situation.
As "accurate" as these assumptions may be, the more likely scenario is that producers brought Chad back to the house because — as annoying as he is — he makes great television. And besides, he still needs to get Daniel's phone number so their bromance can continue after The Bachelorette ends.
Sadly, fans have to wait till June 20 to find out why Chad returns. And I for one, can't wait.