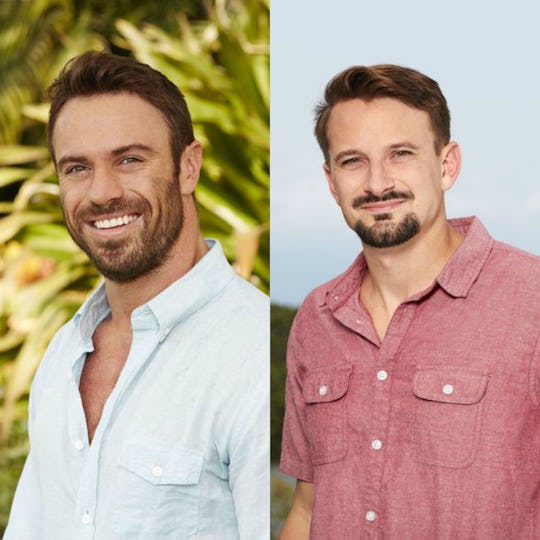 Craig Sjodin/ABC
Does Chad Hurt Evan On 'Bachelor In Paradise'? It Might Not Be What We Think
With Season 12 of The Bachelorette at its end and JoJo Fletcher riding off into the sunset with her winner, Jordan Rodgers, it's easy to look back now and pinpoint some of the most memorable contestants and moments of the season. Obviously, by now, every Bachelor Nation fan knows Chad Johnson, the meat-eating, milk-drinking season villain. He was the guy everybody was talking about. In particular, Chad's feud with fellow Season 12-er Evan Bass made waves. With both former contestants appearing on Bachelor in Paradise this season, it seems essentially guaranteed that the feud will continue onto the beaches of Mexico. But with the season trailer hinting heavily at violence, I have to wonder – does Chad actually hurt Evan on Bachelor in Paradise?
Almost from the first moment the two met, Chad and Evan were seemingly at odds. According to what Evan mentioned behind-the-scenes during the live Men-Tell-All episode, their issues began when Chad saw Evan crying one night early on because Evan missed his kids and questioned Evan about it. It all escalated when Evan took an opportunity during the sex talk stand-up date to take a shot at Chad's alleged steroid abuse. The Chad Bear was not happy to be poked.
One ripped-shirt and one two-on-one date later, Chad was sent packing – and Evan wasn't far behind him, leaving after the rose ceremony at the end of the same episode. Now, with their impending reunion on Bachelor in Paradise, the extended trailer released seems to heavily suggest that Chad does something shocking – like punch Evan's lights out, landing the erectile dysfunction specialist in an ambulance. But things aren't always how they appear.
Don't get me wrong, the trailer absolutely seemed to suggest that Chad somehow physically harmed Evan. A huge portion of the trailer was dedicated to Chad's apparent antics, showing him essentially terrorizing the group. He's shown specifically shoving Evan, who is then seen laid out in an ambulance as a woman's voiceover comments that "Hurricane Chad hit really, really hard." Hard enough to land somebody in the hospital?
So, yep, it definitely appears that something shocking happened between the two while in Mexico. That, paired with rumors that Chad was kicked off of Bachelor in Paradise early on, seems to all but confirm it. But looking back at Chad's earlier behavior and the franchise's history of heavily editing together footage for promos, it seems pretty clear that he wouldn't actually hurt anyone on live TV.
First of all, think back to his time on The Bachelorette. As aggressive and occasionally terrifying as Chad was, he was mostly all talk (aside from one shirt-ripping). Post-filming, via Twitter, Chad seemed mostly amused at similar promos on The Bachelorette which also suggested that Chad had harmed Evan by editing together footage of their arguments with footage of Evan's nose bleeding. As we later found out, Evan's nose just spontaneously bleeds. He got random nose bleeds twice, completely un-Chad-related.
Finally, this tweet by Chad back in June clarifies his stance on physical violence:
Chad's three great loves appear to be meat, milk, and money. (Okay, four great loves, including his dog Pumpkin.) It's highly unlikely that he would leave himself open to potential legal action by taking a swing at anybody on camera – no matter how drunk he gets. That would just be foolish.
Of course, all speculation aside, we'll need to tune in when Bachelor in Paradise premieres tonight to find out for sure.