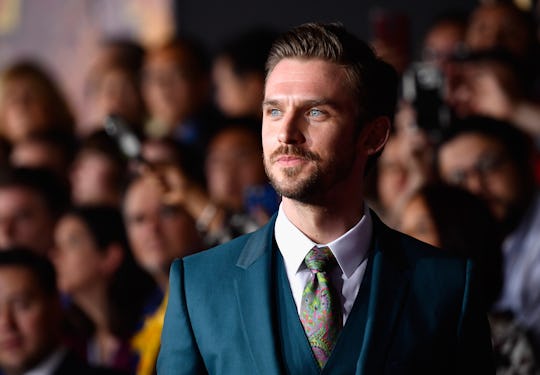 Frazer Harrison/Getty Images Entertainment/Getty Images
Dan Stevens Is In 'Beast' Mode — Onscreen, That Is
Anyone who's been anxiously awaiting the March 17 release of Beauty and the Beast — the live-action remake of the Disney classic — has likely also been swooning over Emma Watson as Belle for months. But the actor playing her onscreen love interest, the Beast, also tackled a dynamic role which is just as worthy of praise: Dan Stevens learned to sing to deliver on the musical numbers and he delivered dual performances for single scenes. His physical transformation into Prince Adam (that hair!) is striking, of course, but when the prince morphs into his grizzly, cursed title character, Dan Stevens also voices the Beast, and does a remarkable job of it too.
Racking up more than 127 million views within 24 hours of its November release, the first Beauty and the Beast trailer set a new record and prepared fans for an epic reimagining of the film. It was also a milestone for Stevens himself, as the Downton Abbey and Tomorrow People alum said last year in an interview with The Telegraph that he aspired to act in more films.
"I haven't done as many films as I would have liked," he told Sarah Crompton. "A lot of my contemporaries have done more. I don't have 'I will be a movie star' emblazoned on anything, but I'd like do a bit more screen stuff."
And with the title role as the Beast, starring opposite the world-renowned Emma Watson, Stevens has certainly cemented his status as a movie star and again demonstrated the range of his talent as an actor.
He certainly put in the time. As Entertainment Weekly reported, the British actor shot individual scenes twice in order to get the CGI rendering of the Beast just right throughout the process. First, he would give a neck-down performance, with a focus on the character's body movements. Later, with ultraviolet makeup covering his face, the 34-year-old actors would perform the scene again in front of a bank of cameras, and the Beast's face was eventually born of that labor.
He also worked with a singing coach during the process of filming, because, as he told EW, his version of "If I Can't Love Her" is a "big, romantic, soaring number" — and he'd hadn't sung much onscreen before. And when he did, he said, it was "very, very badly" for Downton Abbey.
But those just meeting Stevens for the first time in Beauty and the Beast won't be able to help falling in love with his deep, sure voice — when he's singing or talking. Consider Exhibit A, this clip of an early table read with Watson:
And with that, it will be tough indeed to resist the Beauty and the Beast cast and crew's urgings to "Be Our Guest" March. 17.