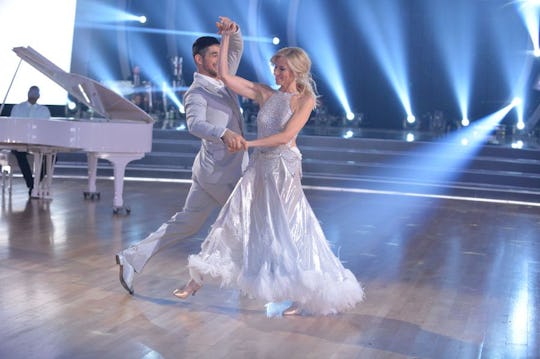 Eric McCandless/ABC
Debbie Gibson Is No Stranger To Performing Prior To 'DWTS'
Each season on Dancing With the Stars, there are contestants who have, for all intents and purposes, two left feet to start off. But there are also those who already have experience performing, like Season 25's Debbie Gibson, who is not only known for her singing, but also on-stage performances. That being said, viewers are probably wondering, does Debbie Gibson have dance experience before Dancing With the Stars? The singer knows her way around a stage and definitely knows how to command an audience after decades in the business.
Since she also managed to earn a 17 out of 30 with pro partner Alan Bersten on the DWTS season premiere, it would seem that she's going to have no problem raising that number in the weeks to come. Being a singer and moving around on stage doesn't make you a shoo-in to become the Mirrorball trophy winner necessarily, since dancing on DWTS does entail learning a perfect Viennese waltz and tango, but Gibson has more than just experience moving with backup dancers during concerts.
The DWTS contestant also has experience on Broadway, having landed her first role as Eponine in Les Misérables back in 1992 and later played Sandy in a London West End production of Grease. She's also had parts in productions of Chicago, Cinderella, and The King and I, so Gibson is no stranger to learning choreographed moves and doing them in front of a large, live audience.
Whether or not this will give her a leg up on some of her fellow contestants is still difficult to say, since sometimes even those with the least experience will surprise you, but Gibson has some dance experience prior to the show, that's for sure. She won't have it exceptionally easy this season, though. As Bersten explained on the premiere, "Lyme disease takes a huge toll on her muscles. Some days, her muscles hurt so much that we can't dance."
Gibson also addressed how having Lyme disease has already impacted her ability to perform to the best of her ability on DWTS. "Once upon a time, I felt really robust and strong, and [now] I feel kind of collapsed in places," she told Bersten during one of their rehearsals. And, she admitted, she's been "hibernating" the past several years, so even if she does have that fancy Broadway experience, being out of commission for quite some time will make DWTS a challenge for her too.
As a contestant on DWTS this season, Gibson seems to be using it as an opportunity to get back to performing and find what she might have lost in herself as a performer because of the time spent overcoming Lyme disease. Maybe for her, it will be like riding a bike and her muscles, though sore, will come to remember how to move properly to choreographed dances. With a score of 17 out of 30, she's already proven to herself that she can definitely get the moves down again and will undoubtedly only get better with time.
Gibson, who spoke to People after the DWTS season premiere, does know her limits though. "I had to take a day off this past week because I needed the rest. But I've realized if I don't take care of myself, I may be out of commission for three days instead of one," she said. "There are days where I've been feeling not so well and dealing with ankle pain and knee pain or something's not working right, but in pushing through it safely, that's when some of the best progress [is] made."
It's not really surprising to learn that Gibson has dance experience, but because of her Lyme disease diagnosis, the season certainly isn't going to be a cakewalk for the singer.
Watch Romper's new video series, Romper's Doula Diaries:
Check out the entire Romper's Doula Diaries series and other videos on Facebook and the Bustle app across Apple TV, Roku, and Amazon Fire TV.