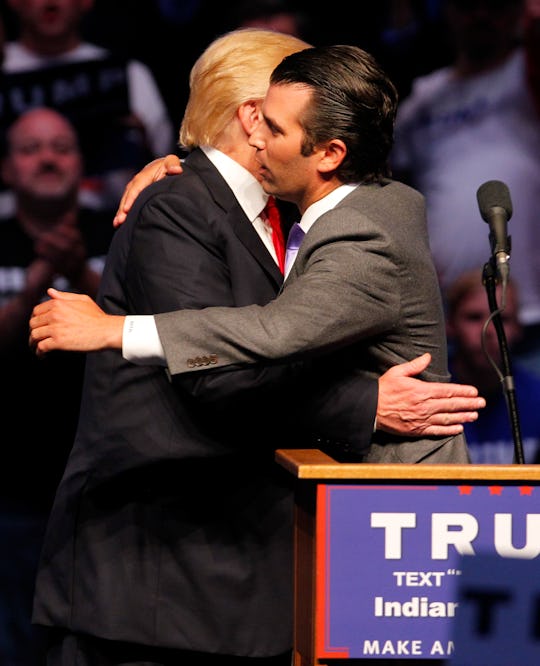 John Sommers II/Getty Images News/Getty Images
Does Donald Trump, Jr. Have Kids? He's Definitely A Family Man
For the Republican National Convention, Republican frontrunner Donald Trump is bringing out some of his best spokespeople: his children. But aside from Ivanka, who will be speaking on Thursday night, many Americans don't seem to know very much about his children, who are an essential part of running his campaign. Donald Trump Jr. will be first up on Tuesday and to really understand the man, it's probably important to know that Donald Trump Jr. has kids. Like, a lot of kids.
Donald Jr. has five children with his wife, Vanessa Haydon: Kai Madison, 9, Donald John III, 7, Tristan Milos, 5, Spencer Frederick, 4, and Chloe Sophia, 2. Put simply, the Trump family is yuuuuuge. That's a lot of children. Donald Jr. is a proud father and also realizes how (I'm going to do again because this is the week of the Republican National Convention and we should honor the candidate, right?) yuuuge his brood is. When Chloe was born, the then 36-year-old dad tweeted, "Its a girl!!!! @MrsVanessaTrump and I are very excited to be bringing home our little bundle of joy today." He then added the hashtag "#FullHouse." That's an understatement, if you ask me. A yuuuuuge understatement.
Then again, the real Full House was a little more strapped for space than the Trump family is. Donald Jr. stayed out of the public eye for a long time, because he didn't want to be "Donald Trump's son" or have anyone thinking he couldn't hold his own, he told The New York Times back in 2005.
With his marriage to Haydon though (and possibly a need to support five children, let's just be real) he's now taken advantage of the family business and name — though it's hard to tell where one ends and the other begins. Don Jr. has worked for his father for years. Haydon was a model since her childhood, and her mother, Bonnie Haydon, ran Kay Models, a prominent agency. Remember back in 2012 when everyone called Mitt Romney an elitist because he came from money? The Trump dynasty, I feel like we should call it that, is something else entirely.
Although the theme for the second night of the convention is "Make America Work Again," it's likely that Donald Jr. will be talking about family life, like his step-mother Melania did on Monday night, and looking to complete the picture of his father as a dedicated family man and actual human being. Especially since, even though he took advantage of his privilege, as anyone might, it's not a given that he knows what it means to be laid off, fired, or broke, or speak to poverty. (Then again, who knows what the Trump campaign intends to sell to delegates at the convention about going to "work again?")
American voters should listen to Donald Jr. though, because he is reportedly taking on a huge role in helping his father get elected. He's a family man, a hard worker, and everything else that makes a good presidential candidate. But listen closely — because if Trump does become president, his eldest son and grandkids will most certainly be around for some time to come.