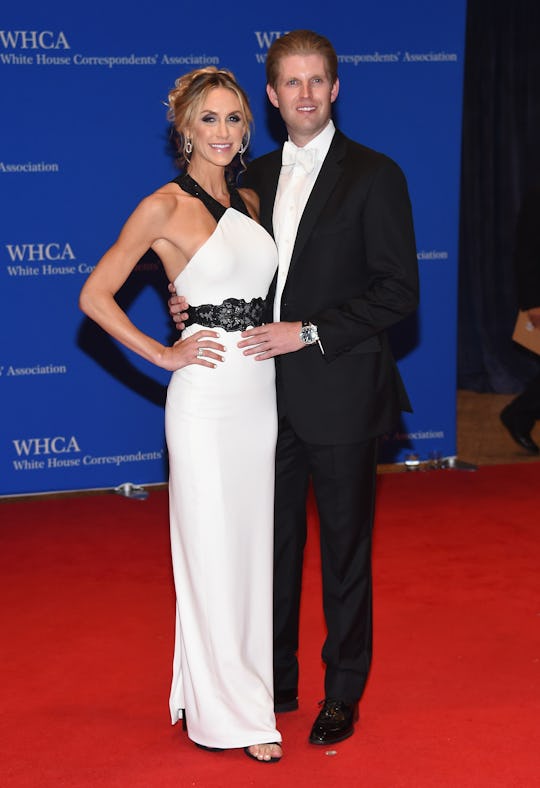 Larry Busacca/Getty Images Entertainment/Getty Images
Does Eric Trump Have Kids? He's Newly Married
It's about time the world found out: Donald Trump has a secret weapon. Relax, everyone, I mean his kids. While the Republican Presidential candidate continues to shock and awe with his over-the-top personality (the sweeping, almost blasé sexism, the off-the-cuff racist comments, and that frustrating, arrogant shrug), his children continue to surprise the world with just how nice they seem. Like, relatively normal and respectful. Everyone seems to want to know them these days (even the harshest Trump detractors), and they especially want to know more about his three oldest kids and their own lives. For instance, does Eric Trump have kids of his own? Non-Trump aficionados may be hoping to find out.
Eric is Trump's third child and second son. He is one of three children (Donald Trump Jr. and Ivanka are his older brother and sister) born to The Donald with his first wife, Czech model Ivana Trump. Eric is an EVP (Executive Vice President) of the Trump Organization and the president of the Trump Winery. He has also made a name for himself as a philanthropist, and is well known for his charitable foundation, the Eric Trump Foundation, which raises money for terminally ill children.
In 2014 Eric married Lara Yunaska, a CBS producer for the program Inside Edition. The newlyweds have not had any children yet, but his older siblings have eight between them — Donald Trump Jr. has five children with wife Vanessa Haydon, and Ivanka Trump has three children with husband Jared Kushner. So, the family name is probably safe. Eric Trump can probably just take a load off and not worry too much. His sibs have got it for now.
Eric and all of his siblings are set to speak on their father's behalf at the Republican National Convention. Trump's wife Melania, a former model, spoke at the RNC on Monday and came under heavy fire when critics claimed she had plagiarized entire excerpts of Michelle Obama's 2008 Democratic National Convention speech.
While the Trump campaign team has chosen not to speak publicly about the embarrassing incident (unless one counts blaming Democratic Presidential candidate Hillary Clinton for the guffaw, not to mention "media bias"), privately, the Trump children must be feeling renewed pressure to paint a palatable portrait of their father.
The Trump kids have long been a humanizing, stabilizing force in the Trump campaign. Eric's younger siblings, Tiffany (whose mother is Trump's second wife Marla Maples), and Barron (Trump's son with current wife Melania), are also expected to make appearances at the RNC, and perhaps having the family out en masse will remind voters that Trump is a real human being after all.
Either way, they might want to have someone else take a quick, cursory glance at their speeches… you know, just in case.