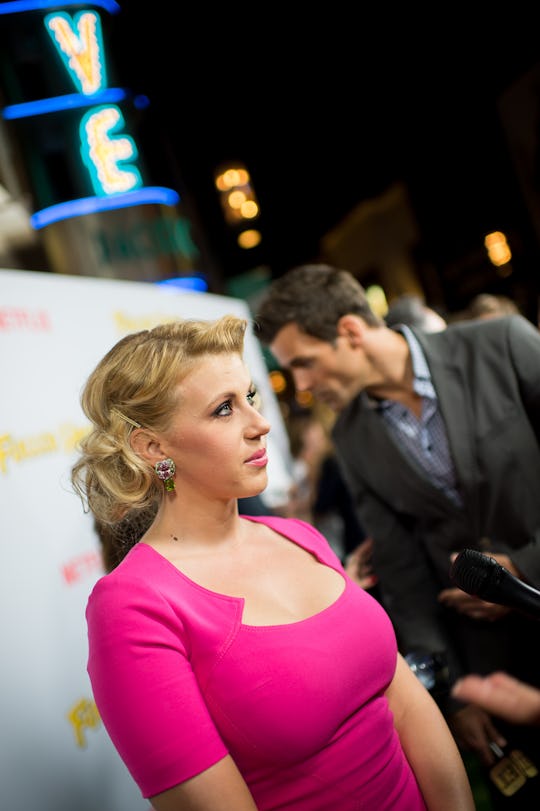 Emma McIntyre/Getty Images Entertainment/Getty Images
Does Jodie Sweetin Dance? The Fuller House Star Has Talent
2016 has been good to former child star and actress Jodie Sweetin. After co-starring on Fuller House which premiered in February, Sweetin has shot back into the spotlight and with the renewal for a season two of Fuller House, it looks like we will be seeing a lot more of Sweetin. On Tuesday, it was announced that Sweetin would be one of the 12 celebrities to be cast on ABC's Dancing with the Stars. For Sweetin fans, this is great news — unless she can't dance. The question is, does Jodie Sweetin dance? The Fuller House star has shown off some of her talent on her show.
It has only been four days since the Dancing With The Stars announcement, but people are already talking about how Sweetin is the one to beat. Is this a fair assumption to make? It seems so.
While I can't speak for what Sweetin does in her spare time, it seems like she definitely has experience in dancing on Full House and Fuller House, respectively.
On Full House, Sweetin's character, Stephanie was always on stage at Uncle Jesse's Smash Club, dancing for a full audience and being super adorable while doing so. Check out this video of her dancing on Full House:
Super good, right?
Sweetin also got to show off her dancing chops of Fuller House, maybe somehow predicting her appearance on Dancing With The Stars with Stars professional dancer, Val Chmerkovskiy.
There is no denying that she has talent and that she truly can dance. I'd say that her fellow celebrity contestants need to watch out for her and her obvious talent.
In an interview with E!News about being cast on Dancing With The Stars, Sweetin told the network:
This is a show I've been excited about for a very long time and the scheduling stuff didn't work out before and now I am very dedicated to doing this and working hard.
When asked about whether or not Sweetin's dance experience would put them at an advantage, Sweetin's partner, Keo Motsepe answered "definitely."
It's also pressure on me because I have to push myself beyond my limits. It's going to be very interesting. I'm willing and hoping you guys vote for us.
Sweetin can definitely dance and is pretty freakin' good at it. But the only way that will be determined is if America votes for Sweetin. Keep an eye out for her on the Dancing With The Stars premiere on Monday, March 21 at 8 p.m.