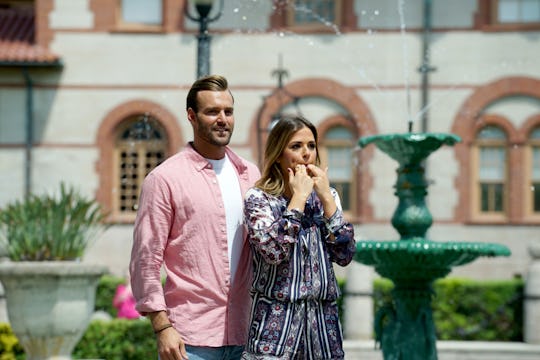 ABC/Michael LeGrand
Does JoJo Dump Robby On 'The Bachelorette'? His Past Relationship Worries Her
At this point, it's hard to imagine JoJo sending anyone else home on The Bachelorette, but given that she has two guys remaining and ABC probably frowns upon a non-ending, she's going to have to get rid of one of them on the finale episode of The Bachelorette. But who will it be? Will she give in to her worries about Jordan and give him the final boot, or does JoJo dump Robby on The Bachelorette? Since he was actually the first contestant this season to tell JoJo that he loves her, you know he's been here for her all along, instead of using the show as a chance to get air time for whatever reason or to pick fights with the other guys, so it's even harder to imagine JoJo dumping Robby, let alone either of them at this point.
In the promo for Monday's episode of The Bachelorette, we see JoJo freaking out once again over her final two guys, trying to figure out which "boyfriend" will be the best choice for her later on in life, as opposed to just right now. And luckily, we have her awesome big brothers to help her make an informed decision for her own happiness, and not just to spare anyone else's feelings.
But what does this mean for Robby? There's never been any question about his love and adoration for JoJo except for when the mention of his ex-girlfriend came up during the hometown visits. And according to his mom, his ex had been spreading the rumor that he only broke up with her so that he could go on the show. It's a tale as old as time, unfortunately, and one that can be as true as it is false. It's also something JoJo will either have to trust Robby about or dump him over if she'll always be wondering about it in the back of her mind.
I'll admit, I wasn't 100 percent behind Robby at the beginning, but as these final episodes progress, it's becoming so clear that the connection between JoJo and Robby is legit and not just another excuse to use that long overused term, "we have a real connection" by one or both of them.
So, will JoJo dump Robby on The Bachelorette? She's definitely one for the dramatics, dumping Chase in the actual fantasy suite and spending a lot of time crying in gorgeous designer gowns, so at the very least we can expect to expect the unexpected as JoJo gives her final rose to either Jordan Rodgers or Robby Hayes. It's all going to be a matter of whether JoJo's worries with Robby outweigh her concerns with Jordan's motives on The Bachelorette and she makes her decision based on that.