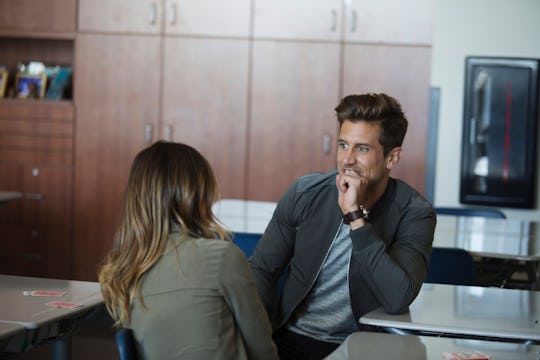 Carl Costas/ABC
Does JoJo Pick Jordan On 'The Bachelorette' In The End? Nothing's Been Confirmed Yet
On The Bachelorette, Jordan Rodgers has been a favorite to win JoJo's heart from the very beginning. Regardless of some not-so-flattering rumors regarding his ex-girlfriend Brittany Farrars, who accused him of cheating, and a certain dating app called Raya, which he firmly denied using during filming of the show, Jordan and JoJo's chemistry has been nothing short of electric from the very start. Almost everyone believes that JoJo will pick Jordan in the end of The Bachelorette. In fact, the former football player's brother, Luke (the not-famous one), even let spill a little information that might just confirm it.
In a recent interview with Womanista, Luke shared his thoughts on JoJo, and how she got along with the family.
...she was able to just so easily come lockstep with our family and conversations and stuff, except for the fact that she is missing some crucial movies that we quote a lot, but we're going to catch her up...
Hey now, what now? "We're going to catch her up?" Does that mean JoJo did actually pick Jordan, which would be why the family is going to catch her up on their favorite movies? It would be weird, after all, if the Rodgers took the time to watch The Sandlot or whatever with Robby Hayes' fiancé.
Luke was quick to recover from his little slip up, amending his statement to the following:
We could catch her up with that, should she need to be caught up, depending on how this whole thing ends. But yeah, she can definitely roll with us, which is fun. It was fun.
Phew, that was close. Probably no one even noticed that little word. Or that even in his changed statement he said "which is fun," and then "it was fun." Move along, folks. Nothing to see here. We definitely don't know how this whole thing is going to end.
Then again, perhaps it was just a slip of the tongue, and Luke already knows that JoJo is about to marry the forgotten underdog, Chase McNary, and not his brother. We probably shouldn't read too much into Luke's little statement, and we certainly can't confirm that JoJo picked Jordan. But we kinda know, right?