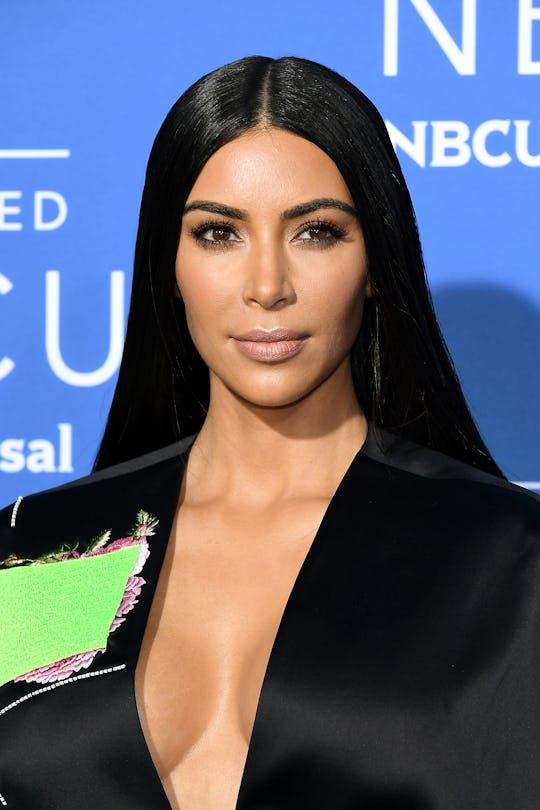 Dia Dipasupil/Getty Images Entertainment/Getty Images
Kim Kardashian Has Changed Her Opinion On How Many Kids She Wants
In a recent video posted to her website, Kim Kardashian West got everyone excited about the possibility of more Kardashian-West babies to come. Apparently husband, Kanye West, wants an even bigger family, well, fans may be in store for more beautiful children from the pair. With one reportedly on the way via surrogate, though, you've got to wonder if Kim Kardashian wants more kids than the potential three she'll have in the new year. Looking at her comments over the years, it seems like even the mogul has changed her opinion on the subject.
Kim and Kanye already have two little ones to take care of — their 4-year-old daughter, North, and their 20-month-old son, Saint — so it is not like these two don't already have their hands full. Plus, there is also a possible third baby on the way, as the couple's rumored surrogate would be several months along in her pregnancy by now. But is that it?
In her video posted to her website, Kim addresses a number of rumors surrounding her little family, including responding to the mom-shaming over her son's front-facing carseat. Most excitingly, though, she hints at the idea that she and Kanye may try for more children in the future. "If it was up to him, yes, I think he would [want a family of five or six]," she said in the video.
Kim wasn't always so keen on following in her parents footsteps when it comes to the number of children in the family. However, her feelings seem to have changed a bit since having North and Saint — at least that is what her quotes on growing her family seem to suggest.
In a 2014 interview with People, Kim discussed what it would be like to have six children, one of the numbers that Kanye is reportedly fond of, and she didn't seem super keen on the idea:
I grew up with a lot of siblings. I don't know if I would really follow in my mom's footsteps and have six. I think that's a little crazy. I don't know how they did it. They were in their twenties, so they weren't really thinking right.
After the birth of her daughter, North, Kim talked with Mother & Baby about her parenting style and the possibility of having another child. She told the website, "I like a big family and I would definitely like one more and see how that goes." Considering the fact that she went on to have baby Saint shortly thereafter, I think that has gone pretty well.
Later in 2014, Kim talked with E! News about her fears of getting pregnant again, despite her desire to have "between two and four kids." In this interview, she discussed the large size of her own family again, but with much warmer recollections. "I have so many siblings and I love it," she said. "They're my best friends, I would want that for my kids." I guess Kris wasn't seeming so crazy to her anymore.
In Kim's most recent comments on growing her family, she has address the rumors of having hired a surrogate. She told The Hollywood Reporter that although no new baby has been confirmed, hopes are high:
I hope so. There have been a lot of things said and Kanye and I have not confirmed anything. We're definitely trying. We are hoping so.
Between this interview and her personal video stating that Kanye would like "five or six" children, it is safe to say that the couple is open to the idea of a large family. Here's hoping that Kim follows in the famous footsteps of her mother and gives us another big family to keep up with.