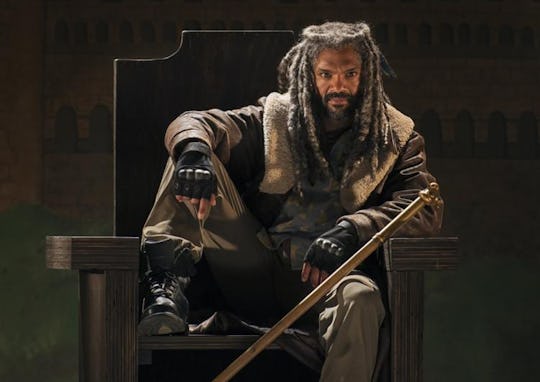 AMC
Does King Ezekiel Help Rick In 'The Walking Dead' Comics? They Share A Common Enemy
He hasn't officially appeared onscreen yet, but Ezekiel is already one of the most highly-anticipated new characters on The Walking Dead. King Ezekiel and his tiger, Shiva, made their debut in the Season 7 trailer released at Comic-Con. That trailer was half focused on the question of who Negan brutally murders and who Ezekiel/his tiger are. Now that the former is resolved, we can relax (sort of) for a bit and focus entirely on this new leader and his formidable animal friend – all the while wondering if he'll turn out to be a friend or foe for our Alexandria gang. So does King Ezekiel help Rick in The Walking Dead comics?
Last Sunday's season premiere of TWD made abundantly clear who the season's chief antagonist would be – Negan, the barbed-wire baseball bat wielding sadist who psychologically tortured Rick's group and viciously murdered two of its members. Clearly, this season's primary objective will be defeating him – Maggie put that into context as clearly as possible, in her breakdown after Glenn's tragic death. But Negan is by no means an easy foe to defeat. He's ruthless, and he's amassed a solid group of followers (aka people who he's browbeaten into service) in the form of the Saviors over at the Sanctuary. Rick and Co. will, in all likelihood, need an ally (or, more likely, several) in the fight against Negan.
Will King Ezekiel, his tiger, and his people at the Kingdom be that ally? As of yet, none of Rick's group members have met Ezekiel. In his Entertainment Weekly interview about the character he's portraying, actor Khary Payton indicated that he'd be meeting Carol and Morgan first and "sees potential" in them. The sneak peak released for Episode 2 also shows Carol and Morgan in the Kingdom, as Morgan takes Carol to meet Ezekiel.
It sounds like things will run smoothly between Carol, Morgan, and Ezekiel (so we're not due for a sneaky repeat of the Governor situation). The comics do give an indication of where the relationship (whether as allies or enemies) between Rick, the de facto leader and protagonist, and Ezekiel might fall.
If you don't want to see spoilers from the comics (which may or may not translate into show spoilers), don't keep reading.
In the comics, Ezekiel does eventually team up with Rick, leading his people beside Rick's in the Kingdom in an "All Out War" with Negan and the Saviors. It's not a hard sell, either; Ezekiel dislikes Negan as much as Rick does, at one point referring to him as a tyrant. No surprises there!
The only rub might be that, in the comics, Ezekiel and Michonne form a relationship. Of course, the show has gone in a different direction, with the enormously popular romantic pairing of Rick and Michonne introduced in Season 6. So the series could go a totally different route in order to avoid a love triangle of sorts – Ezekiel will be meeting Carol after all, and who could possibly resist her badass warrior charms?
We probably won't quite make it to "All Out War" this season on the series, but it's getting there. In all likelihood, Season 7 will probably be about Rick slowly assembling the numbers and allies necessary to move against Negan. That's something we can't wait to see.