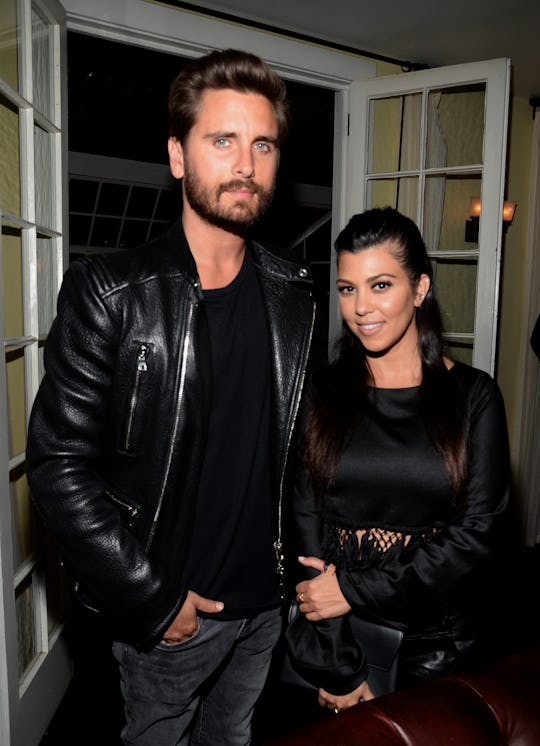 Chris Weeks/Getty Images Entertainment/Getty Images
Kourtney Kardashian & Scott Disick Talked About Having A 4th Kid Together, & Fans Have *Thoughts*
It goes without saying that Kourtney Kardashian and Scott Disick have a confusing relationship. For years, Kardashian and Disick have kept fans guessing about their relationship status and Disick recently considered moving into Kardashian's home to co-parent their three kids, according to People. Of course, there's no right way to co-parent (a lot of exes co-parent under one roof) and it's totally possible that Kardashian and Disick will remain just friends. Some fans are wondering, however, if Kourtney Kardashian wants another baby with Scott Disick. It's a fair question given their close relationship, and a lot of fans are having some intense reactions to Kardashian and Disick's feelings on the subject.
On an episode of Keeping Up With The Kardashians Sunday, Kardashian discussed the possibility of having a fourth child with Disick. This might strike some as a strange conversation to have, especially since Kardashian and Disick are both seeing other people. Although there's no telling how Kardashian and Disick's current partners would feel about another Kardashian-Disick addition (talk about awkward), it's clear Disick and Kardashian are both comfortable with the possibility. In fact, it sounds like this fourth baby scenario is something they have discussed at length.
When Kardashian and Disick's mutual friend, Malika Haqq, asked Disick during the episode if he would have another baby with Kardashian, he answered "yeah," according to E! Online. As for Kardashian, she previously said that she would have another child with Disick if "the situation was right," according to Hollywood Life. Kardashian and Disick not immediately respond to Romper's request for comment.
Obviously, the burning question a lot of fans have is how the pair would bring another kid into the world. In Sunday's episode, Disick said of the their potential baby-making plans, according to AceShowbiz:
Whatever she wants but probably just do it like artificially just so it's like not weird.
A fourth Kardashian-Disick baby conceived "artificially" sounds like a dream scenario for Kris Jenner — ratings, ratings, ratings, people.
As for Kardashian, she isn't too keen on procreating with Scott at the moment due to his "disrespectful nature," she said on Sunday's episode. Although Kardashian didn't close the door on the possibility of a fourth child, it's clear Disick has a long way to go in regaining Kardashian's trust. Kardashian said of Disick's sperm offer, according to Elite Daily:
... Yes, I know that he would. But he has a disrespectful nature these days. To yourself, to me, to your children.
Following this unique conversation, fans took to social media to express their feelings. By the looks of it, a lot of fans think Disick and Kardashian are both using each other — some think Kardashian is taking advantage of Disick's "sperm" while some believe Disick wants to secure his place on KUWTK.
Some fans commented, according to YouTube:
Kourt uses scott just for his sperm.
Scott's only willing to donate sperm bc he doesn't want to lose his place in her life as her baby daddy. (not saying that's bad of him at all but that's clearly why).
Wow, Scott really wants to just donate his sperm to her so "they" can have another baby? Even though they're both seeing other people and she has ZERO interest in ever reconciling w/ him?? Talk about desperate lol.
I would not have a fourth kid with Scott not at the rate he is going running around with girls.
I think it's weird that Scott was so against more kids when he and Kourtney were together, but the moment they split, he's down to have, like, eight.
I seriously want kourt to have a fourth kid.
Although a lot of fans seem put off by Kardashian and Disick having another kid together, it's not that wild of a scenario according to some fans who have been in similar situations.
A commenter on the website Essential Baby wondered if she should have another baby with her ex, asking:
Hello. This is going to be a bit of an "out there" question. I currently have two children from different relationships. My youngest daughter is 2.5 years old. Me and her dad split amicably when she was 10 months old and we have a great relationship/ friendship. I really want another baby but I don't want 3 children from 3 different fathers. I just recently ended a relationship with my partner. He just wasn't the one. I feel an overwhelming need to provide a sibling for my youngest child and I really want it to be a full bio sibling. The way I see it is we already have one, what's the difference in having two? I know I can emotionally cope with having a baby alone and he will be helpful as he is with DD. They can go together on his weekends etc. Am I totally crazy for even thinking of broaching this with ex? He is currently single too.
One user replied to her question:
I know someone who did this. Has 3 children and her and ex were only together for 1st one.
It's really important to point out that there's nothing wrong or shameful about having children with multiple partners; blended families are incredibly awesome. Too many parents are shamed for their reproductive and family-planning choices, and it's not OK (it's 20-freaking-17). That being said, it's totally fine if Kardashian only wants to have children with Disick, for whatever reason that may be. Although it seems unlikely that Kardashian and Disick will have another kid in the near future, fans shouldn't rule it out as a possibility.
Watch Romper's new video series, Romper's Doula Diaries:
Check out the entire Romper's Doula Diaries series and other videos on Facebook and the Bustle app across Apple TV, Roku, and Amazon Fire TV.