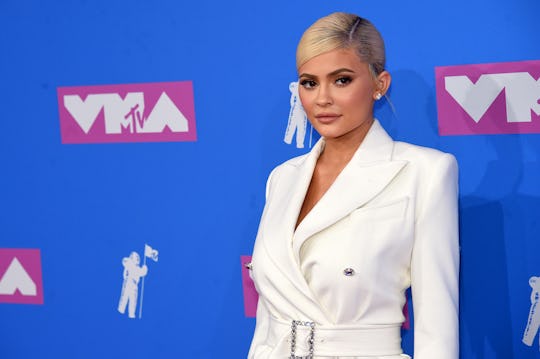 Jamie McCarthy/Getty Images Entertainment/Getty Images
Kylie Jenner Just Revealed Whether She Wants To Give Her Daughter Stormi A Sibling In The Future
Kylie Jenner loves being a mom to her 8-month-old daughter, Stormi. She has made this very clear with every single photo she posts to Instagram and every single Snapchat that she takes of her. Watching the makeup mogul thrive as a mother has definitely led some fans to wonder whether Kylie Jenner wants more kids in the future.
There is a likely answer to this question and that is — yes. But it's OK if fans were asking this question over the weekend, especially after Jenner's spontaneous Q&A session, which she posted on Snapchat on Saturday night. During this time, Jenner answered questions about her relationship with her BFF Jordyn Woods, her favorite song from boyfriend Travis Scott's new album, and her future. This was awesome — it let fans get to know Jenner in ways they hadn't before, allowing her to answer some of their pressing questions.
One fan in particular asked Jenner if she wanted another kid, which she answered it very straightforwardly — yes, she does want another kid.
"I want another baby but 'when' is the question," Jenner said. "And I'm definitely not ready right this second and I don't know when I will be."
OMG, how exciting.
When Jenner gave birth to Stormi in February, fans were pretty unaware how Jenner was feeling about becoming a mom, because she kept all of her pregnancy a secret, according to People. This has made her super adorable Stormi updates all the more exciting — with every post she makes on social media, people are so happy that they get to be a part of Jenner's life as a young mom.
And maybe Jenner has taken note of this, because she revealed, in the same Snapchat session, that she would "love to share more of that" with fans. This would be awesome, especially since she took fans along with her pregnancy after Stormi was born in the sweetest YouTube video. Although it was great to watch, it would have been even better for fans to see those moments in the video play out in real time.
In addition to confirming that she does want kids sometime in the future, Jenner also told fans on Snapchat over the weekend that she does have a few names in mind for her future child — although she hasn't found anything that she loves.
"I definitely want a girl, hopefully," Jenner said on Snapchat. "And I want her to have a feminine name."
This isn't the first time that Jenner has talked about expanding her family — or made it known that she wants to have quite a few daughters. In a 2015 issue of Teen Vogue, Jenner stated that she would love to be a mom in the future. "When I look to the far future and decide to have kids, I need 10 million girls," Jenner said at the time.
Although 10 million daughters seems like a far-fetched dream, it's safe to say that Jenner will probably have another kid in the future with Scott, according to Us Weekly, whenever that may be. Jenner just turned 21 in August, according to Harper's Bazaar, and has plenty of time to have kids and expand her family. Just because she is loving her life as a mom (and Stormi is super cute) doesn't mean that she has to do that right away (and it shouldn't give fans an excuse to pressure her into having more kids, either).
Jenner will be ready to have more kids when she is ready. And the best thing is, it's likely fans will know about her pregnancy straight from the source.