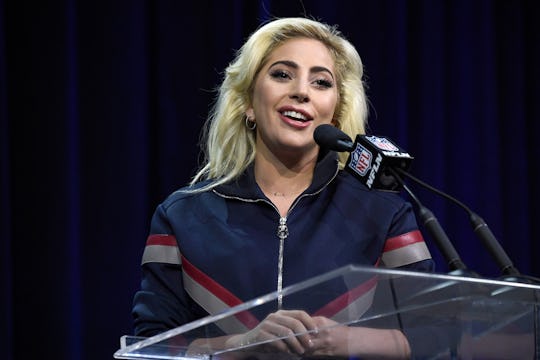 Frazer Harrison/Getty Images Entertainment/Getty Images
It Doesn't Matter If Lady Gaga Wants Kids
There's been lots of celebrity baby news lately: Madonna just adopted twins from Malawi, Janet Jackson is basking in the glow of new motherhood at age 50, and Beyoncé has twins of her own on the way. Lady Gaga has also been in the headlines this week for her amazing Super Bowl 51 halftime show performance on Sunday. At age 30, she doesn't yet have children, leaving some fans to wonder: Does Lady Gaga want kids?
The answer to that question has vacillated over the last few years. In 2013, Gaga said she wanted at least three kids in an interview on SiriusXM, citing the fact that she came from a strong family of her own. Then, in 2014, she told Parade that she wanted to take some time before having kids, after her musical collaboration with Tony Bennett gave her a greater sense of clarity. "I just want to sing," Lady Gaga said.
Then in 2015, Gaga's then fiancé Taylor Kinney told HuffPost Live that he was eager to have children with her and that the pair were thinking about having children. "I'd like to have a little soccer team and a minivan and all that stuff," Kinney told HuffPost Live. But of course, all of that changed when Gaga and Kinney broke off their engagement in July of last year. Even though Mother Monster may not have a brood of Little Monsters of her own just yet — it doesn't really matter.
First of all, it's none of our business whether someone wants kids. It doesn't matter if it's Lady Gaga, Sen. Elizabeth Warren, or your best friend — the decision to have children is intensely personal and shouldn't be subject to public scrutiny. Yes, it might seem like an innocent question: "So, when are you having kids?" — but it's really quite an invasive question to be asking about someone's desire to reproduce. Here's something to consider: How would you feel being asked this question if you had infertility? Or if you're single? Or if you're pushing menopause? It's a sh*tty question to ask of anyone, much less celebrities.
Secondly, how many times has Drake been asked on record if he wants kids? Or Kanye (before Saint and North)? Or Bruno Mars? Much like the "Who are you wearing?" trend that just won't die on the red carpet, "Do you want kids?" seems to be another default sexist question reserved only for female celebrities. You don't see Ryan Seacrest chasing down Justin Bieber asking him when he's finally going to settle down and have kids — but he's more than happy to ask these same personal relationship questions of someone like Ariana Grande. (And kudos to Grande, who called out Seacrest on his On Air With Ryan Seacrest show in September.) Or this amazing moment when Emma Stone wasn't having it at this year's Golden Globes when she was asked, "Tell me about your dress:"
Even so, female celebrities are continually hounded on questions of impending motherhood. When confronted with the question by E! News in an interview about the release of her new book, Scrappy Little Nobody, actress Anna Kendrick explained why she doesn't want kids with the best response ever:
Well, if I have kids, it's just another kid that your kid is going to have to fight when the water wars come. The zombie apocalypse is coming, and with my genes, I don't think that they're going to last. They're just going to be food.
So, does Lady Gaga want kids? Maybe, maybe not. Either way, let's change the conversation away from sexist questions folks have no business asking and talk about issues of substance — like Lady Gaga's subtle political messages to Trump in her halftime performance. As Gaga herself noted in an Instagram post responding to trolls body shaming her for how "fat" she looked during the Super Bowl:
No matter who you are or what you do. I could give you a million reasons why you don't need to cater to anyone or anything to succeed. Be you, and be relentlessly you. That's the stuff of champions.