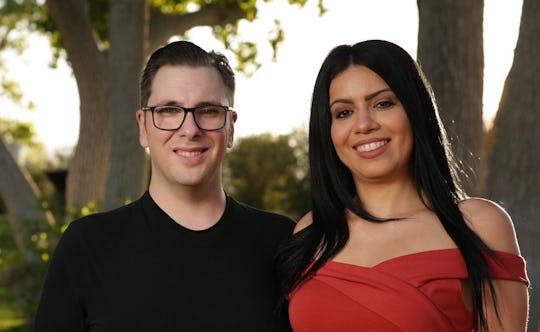 Courtesy of TLC
'90 Day Fiance' Star Larissa's Instagram Is Filled With Clues About Her & Colt
On this season of 90 Day Fiancé, viewers are particularly infatuated by Larissa and Colt. The main reason for that? The couple shares a house with Colt's mom, which has been a source of tension all season so far. These days, reality show fans love checking up on their favorite characters on social media, so people are likely wondering: Does Larissa from 90 Day Fiancé have Instagram?
Larissa, who is from Brazil, moved to Las Vegas to be with her fiancé, Colt, on this season of 90 Day Fiancé. And yes, Larissa has an Instagram. Her first post was only on Oct. 1 of this year, so it's pretty impressive that she already has more than 22,000 followers. Under the handle @larissacristinjon, Larissa posts a mix of photos with Colt, glamorous solo shots, and even clips from 90 Day Fiancé. However — her IG is currently set to private which means you'll have to request to follow in order to get all the insider info. Luckily, Colt's Instagram is still public at the moment, and his profile boasts several pictures with Larissa.
Just this week, Larissa shared a photo of herself and Colt posing at an aquarium. "We are together and strong. We just choose don't expose it," she wrote, as a response to viewers asking if they were still together or not. Also this week, Larissa posted a selfie of her and Colt smiling together with slot machines in the background, making it clear that she is still living in Las Vegas with her man.
Editor's Note: The Instagram post has since been deleted.
Larissa has gotten into modeling since making the move from Brazil to Las Vegas. She recently shared a bunch of photos of herself in a red dress posing outside of what looks like an antique store. She captioned one photo with a paragraph in her native Portuguese, in which she implied that she wanted people to let her and Colt be. "Friends, let us live, love and be happy, without regrets," Larissa captioned the shot (translation by Google). "We can never change the past, but possibly and with the grace of God, make a new future."
And last month, around the time this season of 90 Day Fiancé premiered on TLC, Larissa shared a slew of selfies with rather dramatic captions. "Sometimes the things we can't change end up changing us," she wrote alongside one shot. "Know your worth. Don't settle for anything less," she captioned another selfie. "To be beautiful means to be yourself. You don't need to be accepted by others. You need to accept yourself," she wrote next to another photo. Larissa comin' in hot with the self love! Get it, girl.
She's also shared a few photos of Colt's cat, Calie, whom she appears to have fallen in love with. "My beautiful Calie, when I saw her I thought she was majestic," Larissa captioned a photo of the cat. "I had no idea that she would be curious, playful and a little hunter." She also called her "my little werewolf" in another post.
Larissa has also poked fun at herself on Instagram by sharing some of her her and Colt's more awkward moments on 90 Day Fiancé. For example, she Instagrammed that scene where Colt picked her up from the airport in Las Vegas, and all she could focus on was the fact that he didn't bring her flowers.
90 Day Fiancé airs on TLC on Sundays at 8 p.m. ET. Hopefully Larissa will continue updating fans on Instagram in between episodes!