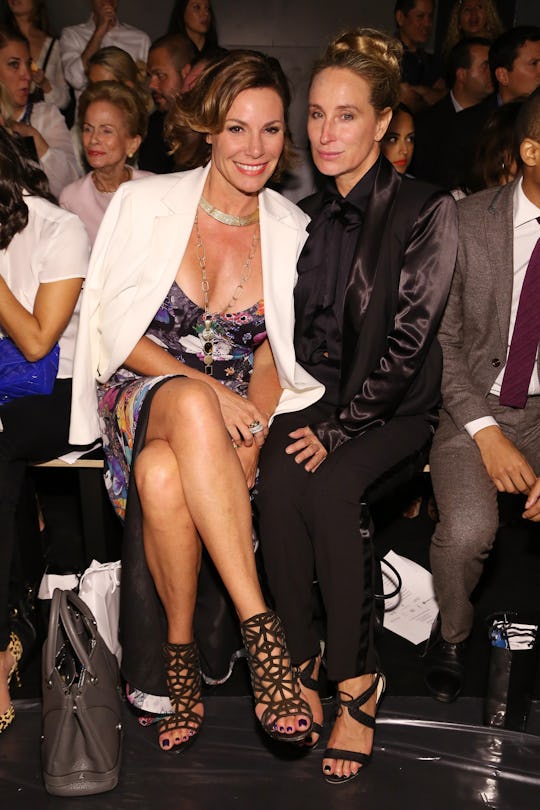 Monica Schipper/Getty Images Entertainment/Getty Images
Does Luann De Lesseps' Fiancé Admit To Dating Sonja Morgan? The 'RHONY' Guy Is Denying It
The social circle of The Real Housewives of New York City is small – and rapidly getting smaller. As soon as Luann announced she was involved with (and subsequently engaged to) Tom D'Agostino, she was met less with jubilation and more with that expression a woman once made at Carrie in the bathroom on Sex and the City. Remember that mix of an eyebrow raise and a grimace? It was quickly divulged that Tom had dated two of the other women on the show, one more seriously than the other. Tom and Ramona went on a few chemistry-free days, but Sonja alleged that she and Tom had been friends with benefits for at least a decade. Luann swears she doesn't care what Tom did before he met her, but it's still got to be awkward considering Sonja is one of her closest friends. They even lived together. Sonja hasn't wavered in her statement, but did Luann de Lesseps' fiancé admit to dating Sonja Morgan?
Tom doesn't watch the show, but that doesn't mean he's ignorant of what goes on when the cameras are rolling. He spoke to People about the gossip flying around about his past relationships, claiming the entire thing was "so outlandish" to him. While he did admit that something went on between him and Sonja, he made it sound a lot less longterm than she did.
According to Sonja, she and Tom were casually involved for 10 years, but Tom has said otherwise. "Sonja, I've known for years," he told People. "The funny part is, although I've known her for years, we got together once, but she's on this kick that it was more than that."
While Tom's version of events seems to suggest Sonja exaggerated whatever went on between them, Sonja isn't changing her side of the story. She wanted to be the one to bring it up so Luann wouldn't hear it from someone else; she respects Luann and Tom's relationship, she just wanted the information to come out in a way she could control. But she's also not surprised by Tom's dismissal of the situation. "He's going to minimize it as much as possible, as all men do," Sonja said. "They never tell the truth, guys, they never do."
The entire situation is a bit of a non-starter because Luann insists she doesn't care either way. Sonja, meanwhile, is choosing to prioritize her friendship with Luann over her relationship with Tom (whatever that relationship was). "I will never let a man come between me and Luann," Sonja said. "And she obviously isn't letting a man come between us because she's getting down that aisle no matter what it takes – and dragging me with her!" It's a good thing Sonja is Team Luann in this situation, because it would be tragic if these two ladies lost their friendship – who else would either of them have to read the paper in fur coats and slips with?
Despite differences in opinion, the one thing Tom and Sonja can agree on is that something did happen, it's just a question of how serious it was. And while Sonja may insist it went on for years, she's also not that bothered by Tom saying otherwise. It looks like Sonja's new resolution to steer clear of being the center of the drama is sticking (for now).